It's cute and funny when I see the turkey and chickens hanging out at Walgreens, or the occasional cow that gets out of the fence and decides to run around the neighborhood. The hitchhiking goat is even a pleasant occurrence. However.. I do NOT find the mountain lion hanging out in the planter in front of Macy's  to be funny at all. Goats and chicken I can handle. I wouldn't dare scuffle with a goat, but I know for sure he or she wouldn't eat me or my kids. Ya sure, in the picture that kitty looks all cute and cuddly, but we all know that critter has the teeth and claws of a LION! It's a lion..see. For those who are concerned, the lion was tranquilized and released back into the wilderness. I betcha though Google and Facebook now have her email address and she will be getting coupons and sale ads for the rest of her life. That'll teach her! If you want to see the whole article you can click here.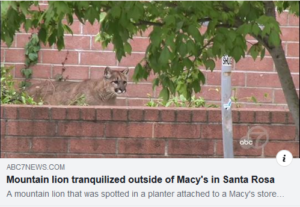 The Candidate's Daughter: A Gripping Thriller (An Elizabeth McClaine Thriller Book 1)
by Catherine Lea


(522 Reviews)
Genre: Action & Adventure | Literature & Fiction | Thrillers
FREE for a limited time
She's six years old, Down Syndrome, and lost.
Only her kidnapper can save her.
The plan is simple: kidnap the daughter of Senate candidate Richard McClaine, take the money and run. Nobody gets hurt, the kid goes home alive.
Twenty-two-year-old car thief Kelsey Money thinks it's the worst scheme her boyfriend Matt and his drug-fueled brother have ever come up with. But Matt's the only one Kelsey's ever loved, the only one she's ever trusted.
Then she discovers the part she wasn't told – that six-year-old Holly isn't going home alive. So, Kelsey makes a decision. And some decisions can never be undone.
Elizabeth McClaine can't even tell the police what her daughter was wearing when she disappeared. Soon after Holly was born with Down Syndrome and a cleft palate, she was placed in the care of a nanny while her mother battled postpartum depression. But when Elizabeth learns the detective on the case has already failed one kidnapped child, she cannot fail hers.
The clock is ticking. Both women have twenty-four hours to find Holly because in twenty-five, she'll be dead.
The Candidate's Daughter and its sequels Child of the State and A Stolen Woman are additions to the great action and character-driven mystery and suspense thrillers in the tradition of J.D. Robb, Faye Kellerman, and Mary Higgins Clark.
(Warning: Some language may offend)
Click here to get this book for FREE
° ° ° ° ° ° ° ° ° ° ° ° ° °
The Golden Hourglass (Tales of Cubonia Book 1)
by Ben Mariner


(5 Reviews)
Genre: Literature & Fiction | Humor & Satire | Fantasy
FREE for a limited time
On a cube planet embroiled in magic, monsters, adventure, and sticky buns, a sinister plot unfolds that will join unlikely friends on a journey where the flow of time is variable and youth is at stake.
Cubonia's most famous treasure hunter, Broderick Porter, has just been hired to steal a necklace from Queen Annelise's youngest daughter, Alexandra. For one so skilled, it should be an easy job. But the princess has different plans. When Broderick shows up looking for the necklace, Alexandra makes him an offer: she will give up the necklace if he trains her to fulfill her dreams of hunting monsters. When the duo delivers the necklace to the dastardly Witch of the Wastes, Alexandra is taken prisoner by the Witch and Broderick finds himself in the royal prison. Now Broderick must rescue the princess and set things right before he finds his head in a guillotine.
Click here to get this book for FREE
° ° ° ° ° ° ° ° ° ° ° ° ° °
A Room of My Own
by Ann Tatlock


(178 Reviews)
Genre: Religion & Spirituality | Women's Fiction | Contemporary Fiction
FREE for a limited time
Excellence in Media "Silver Angel Award"
Virginia, the young daughter of a wealthy doctor's family, sees her life forever altered by the Great Depression. Forced to give up her own room so that relatives can move in, her resentment at those circumstances is altered as she helps her father, who spends his spare time giving medical attention to the people of "Soo City." Soo City is a makeshift camp near the Soo Line tracks. But her father's goodwill clashes with powerful people who wish the camp destroyed. The violent strike of workers in the grain mill district brings tragedy to the strikers, and the father is severely wounded while helping the people of Soo City. What happens next will challenge Virginia's fragile faith in God and man.
"In this seamless and well-researched narrative, Tatlock provides a compelling look at the Depression through a child's eyes. At the same time, she accurately conveys the exuberance, naïveté, humor and optimism typical of young teens." –CBA Marketplace
Written for the General Market (G) (I): Contains little or no; sexual dialogue or situations or strong language. May also contain content of an inspirational nature. Amazon customers who purchase the print version have the option to purchase the Kindle eBook at no charge.
Click here to get this book for FREE
° ° ° ° ° ° ° ° ° ° ° ° ° °
Everlasting Light – A Civil War Romance
by Andrea Boeshaar


(96 Reviews)
Genre: History | Religion & Spirituality
FREE for a limited time
When loss lingers… love – even beyond death.
The American Civil War has ended, but Alaina McKenna still awaits news about her husband, Braeden. Did he die in a Yankee prison? Was he buried in a shallow grave on a Virginia battlefield? Or has he turned his back on the specter of death and loss around him and sought solitude west of the Mississippi River, never to return home, again?
As Christmas nears, Alaina deflects the advances of a suitor in the neighboring county, choosing to cling instead to hope and her belief that Braeden will return. As winter's chill settles upon her farm, Alaina cries out to God in one final Christmas Prayer.
When loss lingers… love – even beyond death. For it is through heartbreak that God opens doorways to hope.
Written for the General Market (G) (I): Contains little or no; sexual dialogue or situations, violence, or strong language. May also contain some content of an inspirational/religious nature. Similar romance novels in this genre may be categorized as: christian romance, christian historical romance, inspirational romance, christian fiction, and clean, wholesome romance.
Click here to get this book for FREE
° ° ° ° ° ° ° ° ° ° ° ° ° °
Midnight Is My Time
by Mike Dellosso


(51 Reviews)
Genre: Mystery, Thriller & Suspense | Suspense
FREE for a limited time
Loner Andy Mayer is on the run from a past he cannot escape and headed into a future he cannot foresee. But along the way he meets Missy, a mysteriously gifted and blind woman, whose senses point him in the right direction. Andy and Missy need to get to Maine but it seems every force in the universe is against them. Navigating a post-apocalyptic landscape, the two fight their way north where they eventually come face to face with an enemy so powerful it will take their collective efforts to defeat it. And only then will they both realize the true purpose of their journey.
Written for the General Market (G) (I): Contains little or no; sexual dialogue or situations or strong language. May also contain content of an inspirational nature.
Click here to get this book for FREE
° ° ° ° ° ° ° ° ° ° ° ° ° °