I'm not going to lie. It's been tense in house the past few days. Sinny the cat has been testing out the conditions on the floor in reach of the new puppy. Casper is not quite getting that cats are sharp, because sweet Sinny has been holding back. I am not sure for how much longer Sinny with show this level of restraint though. Casper has chomped down hard on his tail a few times that made him jump pretty high. I can tell Sinny is preparing to teach little pup pup a lesson, because he is making himself very accessible, and watching pup closely. Junebug must sense it as well. She has been putting herself between Casper and Sinny when he gets too rough. I honestly don't know who she is protecting more, Sinny or Casper. Maybe both.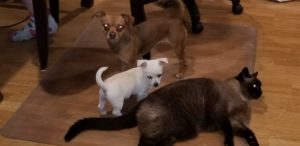 Dark Paradise
by Catherine Lee


(99 Reviews)
Genre: Mystery
FREE for a limited time
Reality television just got deadly.
When a contestant on hit reality show Transformation in Paradise turns up dead, Detectives Cooper and Quinn find themselves out of their comfort zone on a remote holiday island. Amid growing pressure from the mainland to solve the high-profile case, Cooper struggles with the island's lack of resources and the decision from up high that the show must go on.
With the million dollar winner-takes-all prize still up for grabs, the show's five remaining contestants all seemingly have something to hide. Did one of them commit murder? Was a crew member involved? Or does the island have secrets of its own?
Dark Paradise is a fast-paced novella, a bonus story in Catherine Lee's page-turning Dark Series. Join Cooper and Quinn as they take a break from the city and find out that island paradise isn't all it's cracked up to be.
Click here to get this book for FREE
° ° ° ° ° ° ° ° ° ° ° ° ° °
After Henry: A love story
by Michelle Morgan


(12 Reviews)
Genre: Literature & Fiction | Coming of Age | Women's Fiction | Contemporary Fiction
FREE for a limited time
"At the 90th floor, the stairwell door was propped open. There was a window facing the North Tower, and all you could see was this massive hole. Just blackness. Dad's grip on my hand tightened. The building was eviscerated."
Emma Jenkins can't remember the day her father died.
When tragedy gripped the nation, it hit home for Emma. Forced to flee Manhattan, leaving behind her dreams and childhood, Emma found a way to steady her life, to build around the gaping hole.
Now, after three years, she returns to New York to begin a new future — and face her past. But when the memories come back, she is confronted with lies she was forced to believe. Caught between her present and her past, will Emma accept her memories as truth… or find a way to erase them for good?
Told with both compassion and candor, After Henry is a provocative story about a girl who finds love, and then finds love again.
Reader Review: "After Henry is a multi-layered read, and a beautiful commentary on the resiliency of the human heart. This is by no means an 'easy' novel, but a deeply satisfying, beautifully told emotional journey, fearlessly exploring uncomfortable truths of trauma, grief, and growth — whilst somehow still maintaining an inspiring message of hope."
Note to Readers: This is a standalone novel. While it contains a central love story, it does not follow the classic genre conventions of "romance."
Click here to get this book for FREE
° ° ° ° ° ° ° ° ° ° ° ° ° °
Midshipman Henry Gallant in Space (The Henry Gallant Saga Book 1)
by H. Peter Alesso


(223 Reviews)
Genre: Science Fiction | Science Fiction & Fantasy
FREE for a limited time
As the last starfighter in Squadron 111, only Midshipman Henry Gallant can stop the alien invasion. With the United Planets fleet on the verge of annihilation, Gallant can expect no help as he passes threatening aliens. With so much uncertainty about the aliens, analyzing the captured equipment in his possession is critical.
The fate of Earth could rest on the abilities of Midshipman Henry Gallant. Unfortunately, it is his abilities that are much in doubt.
In an era of genetic engineering, he is the only Natural left in the fleet. His shipmates have all expressed concern that he will not be up to the challenge.
Only bright and attractive junior officer Kelsey Mitchel has shown any sympathy for him. Now as his navigator on the last starfighter in Squadron 111, her life, as well as a good many others, depends on Henry Gallant.
Follow the career of a young officer in the 22nd Century genetically engineered space navy.
For Fans of Honor Harrington and Horatio Hornblower.
Click here to get this book for FREE
° ° ° ° ° ° ° ° ° ° ° ° ° °
Colter's Trail: A Western Adventure
by Lee Selders


(45 Reviews)
Genre:
FREE for a limited time
This story follows John Colter, the main character, from Salyersville, Kentucky to Santa Fe, New Mexico.
The excitement never slows; outlaws; Indians; a passenger who turns out to be a thief; gunfights; getting lost in the desert, etc. It seems that wherever Colter goes, trouble follows. However, he's a very resourceful character who can handle anything that comes his way.
Although the story-line is fairly traditional, the main characters and some of the events are not. Colter is quite unusual for his time His appearance, personality, style of dress and the equipment and weapons he carries are very unique. He smokes a pipe and loves his coffee, and he is continually making something to suit his needs from what he has on hand. He has a unique rapport with his horse that is exciting, interesting and very often humorous, while his weapons and knowledge of hand-to-hand combat make for some exciting fight scenes.
This is not just another "Western". It has humor, romance and suspense scenes that will keep a reader's heart pounding. The dialog and the never-ending excitement make a story that is hard to put down.
Click here to get this book for FREE
° ° ° ° ° ° ° ° ° ° ° ° ° °
Guitar Lessons For Absolute Beginners: Start As A Beginner And Learn To Play Like A Professional Guitar Player
by Mark Walker

(18 Reviews)
Genre: Arts & Photography
FREE for a limited time
Easily Learn How To Play Guitar
Have you ever thought of learning guitar, but never found any easy way to do so?
Well now learning guitar is very easy with the help of this book.
Guitar lessons for absolute beginners is a step by step easy guide, which will teach you how to play guitar. All necessary information about guitar is covered in brief in this book. With help of this book, you can learn guitar at the comfort of your home.
Any person with absolute no knowledge of guitar can easily learn to play guitar with the help of this book!
Special features of this book:
•
Very easy to understand.
• To the point explanations, no extra writing.
• Images are included wherever required.
• Four levels of guitar picking lessons.
• Four levels of guitar fretting lessons.
• Quality book at low price.
Chapters included in this book are as follows:
•
Introduction: Guitar lessons for absolute beginners.
• Understanding The Structure Of Guitar
• Understanding The Strings And The Frets
• Various Methods For Tuning The Guitar
• Holding The Guitar In Proper Way
• Guitar picking lessons: Level-1, Level-2, Level-3 and Level-4.
• Guitar fretting lessons: Level-1, Level-2, Level-3 and Level-4.
• Understanding Strumming
• Understanding The Guitar Chords And Chord Diagrams
• Basic Strumming Patterns
So what are you waiting for? Get your copy now!
Click here to get this book for FREE
° ° ° ° ° ° ° ° ° ° ° ° ° °