So it's my day off and what do I do? Garden in the rain of course! The citrus trees are planted, and I finally found a nice spot for the garden gate I bought a hundred years ago. I also planted the gladiolas along the fence, so in the spring that little area should really pop. I am really fighting the urge to go buy some plants at the hardware store. I really believe I am going to lose that fight.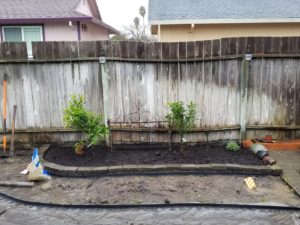 Made for Us (The Shaughnessy Brothers Book 1)
by Samantha Chase

(130 Reviews)
Genre: Literature & Fiction | Women's Fiction | Contemporary Fiction
FREE for a limited time
Book #1 in New York Times and USA Today bestselling author Samantha Chase's dazzling new series:
Meet The Shaughnessy Brothers
Can't make time for love?
The Shaughnessy brothers have spent the years since their mother's untimely death taking care of each other and trying to make their father proud. Oldest son Aidan is hard-working, handsome, successful-and still single. Sure, he'd like to have his own family someday, but who has the time?
She'll show him how to find it
Zoe Dalton, a stunning designer Aidan meets on one of his construction jobs, has the beauty and heart to make Aidan realize how much he could be missing. But it's not easy to break down walls you've spent years building up. Now there's a major storm bearing down on the North Carolina coast, and it could be catalyst enough to force Aidan and Zoe into some major decisions of the heart.
Click here to get this book for FREE
° ° ° ° ° ° ° ° ° ° ° ° ° °
Legacy of Hunger: Druid's Brooch Series: #1
by Christy Nicholas


(123 Reviews)
Genre: Historical Fiction | Literature & Fiction | Fantasy
FREE for a limited time
In 1846, on a farm in Ohio, 22-year-old Valentia is haunted by her Irish grandmother's tales of the family she once left behind and a missing heirloom she held dear. Longing to find what was lost, Valentia embarks on a transatlantic steamship bound for Ireland with her brother, Conor, and two servants.
Her delight in the journey upon one of the first steam ships to cross the Atlantic, however, becomes one of unexpected hardship and tragedy. Despite her loss, she becomes determined to complete her quest, lest the loss be for nothing.
After the harrowing crossing, she arrives to find Ireland is wracked by a crippling potato blight, sweeping the land with tragedy and death. Not knowing whether they've even survived, Valencia presses on in search of her lost family.
Traveling along the west coast of Ireland, Valentia finds implacable enemies and an impossible love, but also sweet delights and a small bit of true faerie magic. The heritage she finds is richer than she had ever imagined as well, but it comes with an unexpected cost.
If she makes the wrong choice, the price will be paid by the ones she loves most.
Click here to get this book for FREE
° ° ° ° ° ° ° ° ° ° ° ° ° °
Land of Strength and Sorrow (Secrets of Orendor Book 1)
by Cassandra Fear


(25 Reviews)
Genre: Teen & Young Adult | Fantasy
FREE for a limited time
One cure can save them all…
Princess Jovi's sheltered life has taught her nothing about Orendor, the kingdom she will one day rule. Longing for adventure isn't the same as being thrust in the middle of one, which is exactly what happens when the Frost Mages attack the castle in Kingsperch.
Determined to save her kingdom, Jovi must gather an army of brave warriors to defeat the Frost Mages and protect the people she loves. She seeks help from the bravest Mammoth Rider in all of Orendor — her fearless uncle, Meical.
Jovi will endure harrowing trials she never imagined she'd face, but as a daring new enemy emerges from the darkness, she will discover a startling truth about herself that might open the door to a brand new future.
Will she choose the lives of many, or the heart of one?
Click here to get this book for FREE
° ° ° ° ° ° ° ° ° ° ° ° ° °
Surviving Frank (F as in Frank Book 1)
by David A. Page


(8 Reviews)
Genre:
FREE for a limited time
Frank was famous for his expert investigative skills, his unorthodox techniques, and the fact that he was a werewolf. Ryan is human, promoted to detective by Internal Affairs. His first assignment is to investigate Frank's methods. Posing as the werewolf's new partner, wrestling with his own guilt and insecurities as a cop and as a spy, he assists Frank in a murder investigation while simultaneously gathering evidence against him. As Ryan and Frank search for answers, they discover that the governor could be the next target in a string of murders. With the politics of Boston hanging in the balance, the partners must tolerate one another long enough to find the killer before he can strike again.
Click here to get this book for FREE
° ° ° ° ° ° ° ° ° ° ° ° ° °
The fete of death (Tara Trott Book 1)
by Vanessa Fletcher


(3 Reviews)
Genre: Mystery, Thriller & Suspense | Mystery | Women's Fiction
FREE for a limited time
Murder's having a field day…
Tara Trott enters a pie contest at the nearby village of Tarndale, but murder and missing tourists are on the menu… Even though the twins' tea leaves predict death and doom, they set off, undeterred,on their ill-fated trip to the sinister village of Tarndale.
The fete's singer murders the song list – then gets murdered himself, but no one sees or hears anything on the packed field.
The body count rises, as does Tarndale's river – stranding Tara, Nancy and the pensioner twins in the unfriendly village with a murderer among them.
Will they survive their danger filled trip?…
Click here to get this book for FREE
° ° ° ° ° ° ° ° ° ° ° ° ° °
Animal Killer
by B. Lee Baker


(11 Reviews)
Genre: Literature & Fiction
FREE for a limited time
THE HUNTER BECOMES THE HUNTED IN THIS GRIPPING TALE OF ANIMAL VENGEANCE…
Despite all his accomplishments while alive, Louie's journey into the afterlife is anything but peaceful. Instead, he is confronted with a chilling demand for justice for his cruelty and slaughter of the many animals he hunted while alive. After a terrifying trial to determine where he will spend eternity, he is sent to a hellish world where he becomes the hunted. There, his soul is stalked and tormented by the very animals he murdered. As he struggles to survive, an infinite and unforgiving animal army wants nothing less than his total annihilation. Will Louie escape and save his soul, or will he be lost to the abyss?
Prepare yourself for an incredible ride that will force you to question many of your closely held beliefs.
Click here to get this book for FREE
° ° ° ° ° ° ° ° ° ° ° ° ° °