Magic! WITCHCRAFT!!! Yes, I am accusing my cat Sinny and little pup Junebug of witchcraft. As soon as I sit down on the couch, get my blanket in place, and click that wonderful remote, signaling the start of a moment of peace, those two fuzzy monsters appear. I think they know the sound of the remote. It doesn't make a sound, yet they hear it. Here is the thing though. I NEVER see them coming. They just appear in my lap. My lap is empty, I blink, there they are! The TV grabs my attention pretty quick, but I wouldn't think so much so that I wouldn't feel a 15 pound cat and 9.5 pound dog crawl up on my lap. My only conclusion is witchcraft. I am sure it's Sinny, and Junebug is just taking advantage of the situation.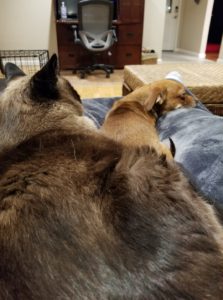 The Last Will of Moira Leahy: a novel of psychological suspense
by Therese Walsh


(137 Reviews)
Genre: Literature & Fiction
FREE for a limited time
Maeve Leahy is a busy professor of languages at a university in upstate New York. So busy that she leaves little time for memories of her lost twin, Moira; her fractured family in Castine, Maine; and the music she left behind in the wake of tragedy nine years ago.
Until a childhood relic and series of anonymous notes resurrects her long-dead dreams, a lost language, her most painful recollections, and prompts her to cross an ocean in search of ancient history. There, Maeve will learn new truths about her past, and come face to face with the one thing she truly fears. Only then can she choose between the safe life she's built for herself and one of risk, with bonds she knows can be wrenchingly delicate and more enduring than time.
Click here to get this book for FREE
° ° ° ° ° ° ° ° ° ° ° ° ° °
Emergence: Infection
by JT Sawyer, Emily Nemchick, Dane Low

(114 Reviews)
Genre: Science Fiction & Fantasy
FREE for a limited time
An epic struggle for survival between humans and a twisted mutation of undead begins in Emergence — the first book in a pulse-pounding post-apocalyptic series by author JT Sawyer. When a CIA bioweapons ship goes dark, operative Will Reisner and his team are sent to the South China Sea to investigate. As their mission unfolds, a deadly parasitic virus takes hold in cities around the globe, turning its victims into worm-riddled creatures bent on infecting others to increase their numbers, linked by a mysterious mental connection. After barely making it out alive, Reisner reluctantly joins forces with epidemiologist Selene Munroe, who has been trying to discover the origins of the virus to prevent humanity from being completely consumed by the horrific fiend that has been unleashed upon the world. Emergence is a bold reinvention of the well-worn zombie theme that will have you gripping the edge of your seat.
Click here to get this book for FREE
° ° ° ° ° ° ° ° ° ° ° ° ° °
Train Wreck
by T Gephart


(105 Reviews)
Genre: Literature & Fiction
FREE for a limited time
"No passion, no emotion, no originality — a train wreck of epic portions."
Those were the words to describe Eve Thorton's exhibition. Not even a fine arts degree from Yale or her daddy's bank account could save her from the scathing reviews. And failure was a word Eve would never be comfortable with. Not even close.
Plotting the demise of every critic who'd written her off was her first instinct. But that would come later. Instead, she would show them that she wasn't a bored socialite with more money than talent.
She would prove everyone wrong, and she wasn't afraid to get her hands dirty. But when her journey for redemption crashed headfirst into Josh Logan, the sexy, talented tattooist from Queens, getting her hands dirty took on a whole new meaning.
Josh was everything Eve wasn't, translating on skin what she couldn't onto her canvas. All she had to do was convince him to share his jaw-dropping brilliance, and help her — seeing him naked — a bonus. Then she could go back to her regular life, vindicated.
It should have been easy. Pity her plans had a habit of derailing.
Click here to get this book for FREE
° ° ° ° ° ° ° ° ° ° ° ° ° °
Devlin's Ride
by Carson McCloud

(62 Reviews)
Genre: Literature & Fiction
FREE for a limited time
All Nate Devlin wants is a ranch to call home. A quiet spot to settle down. He's found the perfect place on the edge of Eastern Oregon's high desert. At the base of the rolling Ochoco Mountains there's a canyon with a steady spring called the Clearwater. Clearwater offers rich grazing for Nate's herd and room to grow.
But perfection comes at a cost.
Nate isn't the only one who has plans for the Clearwater. Rhett Baron and his crew of gunhands will stop at nothing to take the spring. Nate may have gotten to the water first, but can he keep it?
In the tradition of Louis L'Amour and Zane Grey comes Devlin's Ride by Carson McCloud.
Click here to get this book for FREE
° ° ° ° ° ° ° ° ° ° ° ° ° °
Granny's Got a Gun (Secret Agent Granny Book 1)
by Harper Lin


(82 Reviews)
Genre: Mystery, Thriller & Suspense
FREE for a limited time
A hilarious mystery series from USA TODAY Bestselling Author Harper Lin
Barbara Gold, a retired CIA agent, is bored out of her skull in Cheerville, a small town in New England — until a man is poisoned during a book club meeting for seniors. Everyone thinks Lucien had a heart attack, but from his symptoms, Barbara knows someone has slipped poisoned into his cake or drink. Even though she is no longer undercover, Barbara feels as if she's only playing the part of a sweet grandmother, but this may just be her most useful cover yet.
The clock ticks as she investigates who in the Cheerville Active Readers' Society would want Lucien dead. It's only a matter of time before his death is declared murder and the police start hounding everyone.
Suddenly Barbara's CIA training is useful again, and Cheerville is starting to seem not so dull after all…
Click here to get this book for FREE
° ° ° ° ° ° ° ° ° ° ° ° ° °