I am thrilled that my Black Angel trumpet has finally bloomed. I went out this morning to get a picture, but I guess he is not awake yet. He is not exactly what I was expecting, but still a beauty. The plant sits right on the border of my house and my neighbor's so she has been watching the plants progress as well. She was just as curious as I was to see what $2.00 in seeds could buy. I will take another picture when he wakes up. He is not black like what I was expecting, but I am in love with the purple.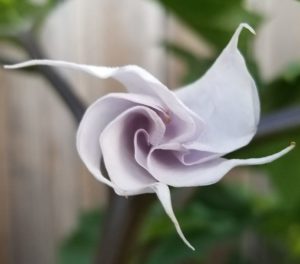 Frozen Past (A Jaxon Jennings' Detective Mystery Thriller Series, Book 1)
by Richard C Hale


(1,186 Reviews)
Genre: Mystery | Thrillers
FREE for a limited time
Jaxon Jennings. Cop. Homicide detective. Partner. He always had your back and rarely made mistakes.
Until the death of his son. Until the night he couldn't save him. Until everything he held dear was taken away from him.
Now, a shell of a man, his reckless actions mark him as a burn-out. A Loner. A dangerous man whom many in the Fairfax County Police Department cannot trust. The criminals he pursues in the suburbs of Washington D. C. are nothing more than ways to bide his time until his next drink, next fix, next loss of control. His past haunts him no matter how hard he tries to hide from it.
So, when a boy's body shows up floating under the ice of a quiet neighborhood pool, Jaxon finds himself immersed in a world where the ghosts of his past feel too close for comfort. A psychopath is using the innocent in ways that appear familiar.
Jaxon's past is catching up with him. And the anger that seethes below the surface threatens to destroy not only his life, but the lives of a group of kids somehow connected with him. The answers are locked, frozen in the part of his past he refuses to confront. But people are counting on him. And he must do anything to save them.
Anything. Even if it costs him his life.
Click here to get this book for FREE
° ° ° ° ° ° ° ° ° ° ° ° ° °
Maid for Love (Gansett Island Series Book 1)
by Marie Force


(2,277 Reviews)
Genre: Women's Fiction | Literature & Fiction | Romance
FREE for a limited time
She's a single mom with no patience for a playboy until he proves he's playing for keeps.
The Gansett Island Series: Book 1
Maddie Chester is determined to leave her hometown of Gansett Island, a place that has brought her only bad memories and ugly rumors. Then she's knocked off her bike on the way to her housekeeping job at McCarthy's Resort Hotel by Gansett's "favorite son," Mac McCarthy. He's back in town to help his father with preparations to sell the family resort and has no intention of staying long. When Mac accidentally sends Maddie flying over the handlebars, badly injuring her, he moves in to nurse her back to health and help care for her young son. He soon realizes his plans for a hit-and-run visit to the island are in serious jeopardy, and he just may be "maid" for love.
Click here to get this book for FREE
° ° ° ° ° ° ° ° ° ° ° ° ° °
Dragon Storm (Heritage of Power Book 1)
by Lindsay Buroker


(168 Reviews)
Genre: Fantasy | Science Fiction & Fantasy | Science Fiction
FREE for a limited time
Born with a secret power he must hide…
Telryn "Trip" Yert has always been a little odd, with hunches that are too accurate to explain. Magic is feared and forbidden in Iskandia, so he's struggled his whole life to hide his eccentricities. As a boy, he was forced to watch his mother's execution. Her crime? Witchcraft.
Understandably, Trip wants nothing to do with the power that lurks within him, always threatening to reveal itself. Instead, he dedicates himself to serving as an officer in the king's army, to battling pirates and imperial conquerors. He longs to become a soldier as respected and renowned as the legendary General Zirkander.
But his country is in need of more than a soldier.
After disappearing for over a thousand years, dragons have returned to the world. A few of them are willing to be allies to mankind, as they were millennia before, but far more want to destroy or enslave humans and claim the world for themselves.
There are few people left with the power to fight dragons. For reasons he doesn't understand, Trip may be one of those people. But if he chooses to learn more about his heritage and the power he can wield, he risks losing everyone he loves and everything he longs to be.
Click here to get this book for FREE
° ° ° ° ° ° ° ° ° ° ° ° ° °
Sins Of The Father: A Mystery Suspense Thriller (Evan Buckley Thrillers Book 3)
by James Harper

(56 Reviews)
Genre: Mystery, Thriller & Suspense | Mystery | Thrillers
FREE for a limited time
Fifty years of guilt. Answers that do more harm than good. A child who might never have existed.
Fifty years ago Frank Hanna made a mistake. He's never forgiven himself. Nor has anybody else for that matter. Now the time has come to atone for his sins, and there's only one person he can trust…
Wise-cracking, street-smart private-eye Evan Buckley has had some tough cases in his time. Looking for somebody who might never have existed may well be the toughest, peeling back fifty years of lies and deceit to uncover the tragic story hidden underneath. Trouble is, not everybody likes a happy ending and some very nasty people are out to make sure he doesn't succeed.
To make matters worse, Evan's own past is back to bite him with a vengeance, as his nemesis, Carl Hendricks, feeds his festering hatred from his prison cell, and sets a killer with a bow and a grudge on Evan's tail.
Click here to get this book for FREE
° ° ° ° ° ° ° ° ° ° ° ° ° °
Hurricane Road: A novel of Cuba, the Florida frontier, and the Spanish American War
by Roger C Horton


(17 Reviews)
Genre: Literature & Fiction | Historical Fiction | United States | Romance
FREE for a limited time
Hurricane Road is the first novel in the series of that name. It's a story of Cuba, and the Florida frontier, during the years of the Cuban insurrection, and the Spanish American War. A young man and woman, each out of step with the cultures they were born to, meet and struggle to survive the great storms of man and nature. It is a tale of gun running, war, commerce, treasure and unlikely love in a turbulent time. It's non-stop adventure on land and sea that will stay with you long after the last page is read.
Click here to get this book for FREE
° ° ° ° ° ° ° ° ° ° ° ° ° °