The second location that we went to glean fruits and veggies for our charity, was a persons home that was tucked away in the rolling hill of Sonoma County. We gathered up our boxes and made our way to their backyard that had the most inspirational veggies and fruits. As you may have noticed I have been a bit grumpy about my garden and this year wasn't exactly a success. I was definitely feeling down about the whole thing. It wasn't until I saw the six foot tall heirloom tomato plants filled top to bottom with tomatoes, or the peach trees bursting with juicy fruits that I felt inspired again. Once again we were picking and chatting away, nomming on the occasional split tomatoes that were not fit to be collected. We were able to quickly fill our boxes, so I had plenty of time to look around and explore the the garden a bit. It was beautiful and simple. Nothing fancy. Not even a gnome in site. It was it's simplicity that made it so peaceful. For a few happy moments I just sat there and enjoyed my surroundings.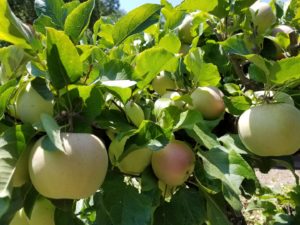 Honeymoon Cottage (A Pajaro Bay Mystery Book 1)
by Barbara Cool Lee


(689 Reviews)
Genre: Mystery | Mystery, Thriller & Suspense | Romance
FREE for a limited time
Camilla Stewart's ex-fiancé ripped her off and disappeared, leaving her to care for his eight-year-old son alone. But when she arrives in Pajaro Bay, she finds a village full of cute cottages, quirky characters… and a killer on the loose who is somehow linked to her, the young boy, and the darling little house known as the Honeymoon Cottage.
The Pajaro Bay novels are heartwarming romantic mysteries guaranteed to leave you with a happy ending. Each is a standalone story, so they can be read in any order, or you can follow along from the beginning and see how the world of Pajaro Bay develops.
Click here to get this book for FREE
° ° ° ° ° ° ° ° ° ° ° ° ° °
Eden
by G. C. Julien, Nikki Busch


(35 Reviews)
Genre: Science Fiction | Science Fiction & Fantasy
FREE for a limited time
In 2064, America faced the deadliest gender war in history.
Civilization collapsed and millions died.
Now, in a daunting world without electricity or societal laws, revered feminist leader Eve Malum guides surviving women to safety — to a utopian haven known as Eden — where she forbids the male gender from ever entering.
But as Eve struggles to keep her paradise safe, the line between good and evil begins to blur.
Click here to get this book for FREE
° ° ° ° ° ° ° ° ° ° ° ° ° °
The Virginian: A Horseman of the Plains
by Owen Wister


(182 Reviews)
Genre: Literature & Fiction | Classics | Westerns
FREE for a limited time
The novel that introduced the first great American hero: the cowboy
The Virginian cuts an impressive figure when the unnamed narrator of Owen Wister's groundbreaking novel first encounters him in Medicine Bow, Wyoming. Dark-haired and physically imposing, the charismatic Virginian quickly befriends the narrator, whom he nicknames "the tenderfoot," and the two embark on a three-hundred-mile journey to the ranch where the Virginian works. Life on the frontier is unforgiving — filled with hardship and violence — and as they travel together, the tenderfoot recognizes all the ways in which the stoic and principled Virginian exemplifies the heroism and romance of life in the Wild West.
Published in 1902 and considered to be the first true Western, The Virginian broke the trail for every great poet of the frontier, from Zane Grey to Louis L'Amour to John Ford.
Click here to get this book for FREE
° ° ° ° ° ° ° ° ° ° ° ° ° °
Missouri Loves Company (Rip Lane Book 1)
by W.J. Costello


(125 Reviews)
Genre: Crime Fiction | Literature & Fiction | Action & Adventure
FREE for a limited time
Former U.S. marshal Rip Lane lives in a motor home. He is a drifter. His only desire is to explore the country he once protected. But trouble seems to find him in every small town and every big city along the way. In Missouri he picks up a beautiful hitchhiker with a duffel full of secrets. When the woman disappears at a bus station Rip finds himself the target of mobsters. But targeting Rip is always a mistake. Because he never backs down. And he always exacts his own brand of revenge.
Click here to get this book for FREE
° ° ° ° ° ° ° ° ° ° ° ° ° °
Star Cat: Infinity Claws: A Space Opera Fantasy
by Andrew Mackay

(59 Reviews)
Genre: Teen & Young Adult | Children's eBooks
FREE for a limited time
Enter your cat. Win the contest. Save the universe.
Five-year-old Jamie Anderson has something to prove. He knows his cat, Jelly, is one in a million and has what it takes to win.
In 2117, the search is on for the first feline in space.
Welcome to the Star Cat Project.
Fur will fly.
Millions of cats across the globe will compete to be the first. They will demonstrate their agility, prowess, obedience and combat skills. The winner will join USARIC's Space Opera Beta team of mercenaries and scientists on a mission to Saturn to decode a distress call and rescue their sister ship. An adventure filled with unexpected thrills and adventure.
If Jelly wins, she'll soon learn that in space no one can hear you purr…
Click here to get this book for FREE
° ° ° ° ° ° ° ° ° ° ° ° ° °
A Sugary Frosting: Growing Up In A 1960's New England Parsonage
by Denis Ledoux, Martha Blowen


(56 Reviews)
Genre: Biographies & Memoirs | Politics & Social Sciences
FREE for a limited time
During the turbulent 1960s, what was life really like in the the US? More to the point, what was life like in a certain New England parsonage?
This memoir offers a glimpse into a world that is long past. The mores of everyday life have changed as has life in a parsonage. A Sugary Frosting / Growing Up In A 1960's New England Parsonage reveals a bit of both. Especially poignant is its glimpse of an underside of being a preacher's kid, a public role that is rife with challenges of supporting your minister father and your minister's-wife mother and of becoming yourself, a person they may not have expected their household to have produced. Relationships in this memoir are portrayed honestly and sometimes not flatteringly. A Sugary Frosting, a phrase derived from Martha Blowen's journals, is a memoir of surviving religious idealism and inherited belief to undertake to become one's self.
Click here to get this book for FREE
° ° ° ° ° ° ° ° ° ° ° ° ° °