It certainly wasn't premeditated for hubby and I to torture our baby bassets by making them watch the classic film Napolean Dynamite last night, but we did , and it was awesome. The look of utter confusion my babies had on their faces as they sat through an hour and thirty six minutes of pure brilliance. I am not really sure how they felt as they were coming to the realization that half of what I say is actually quotes from this movie. GOSH! At least now they know why I wont ever share my tots. Ever since the horrid video game Forenite came out I have had to endure that ridiculous dance that they must do before they do anything else, and during anything they do. Me: Clean your room, Them: (breaks out in Fortnite dance) Me: Stop that and go clean your room. Them: (Still dancing). Me: (Loosing my mind) BAAA!!!! ERG!!! CLEAN YOUR ROOM OR GOD WILL SMITE THEE!!!! Them: (walks to their room still dancing). Awww… it felt good for them to learn that chickens don't have large talons, and why now I always have, like, five sticks of Chapstick in my desk drawer.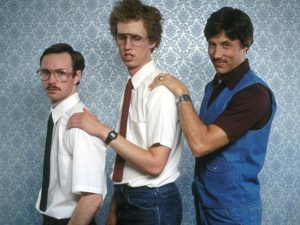 Say You'll Be Mine: A Second Chance Romance (A NOLA Heart Novel Book 1)
by Maria Luis


(161 Reviews)
Genre: Literature & Fiction | Contemporary Fiction | Humor & Satire | Romance
FREE for a limited time
Laws of Engagement for dealing with an Ex:
Rule #1: Don't give into temptation for a kiss just to see if they taste the same.
Rule #2: No clothing removal. Seriously, don't take them off.
Twelve years and too many pairs of stilettos later, Shaelyn Lawrence is back where she started: New Orleans. She's returned only to take care of her grandmother, and after that? She's out, hopefully long before she sees irresistible Brady Taylor, the boy who stomped all over her heart. But when a family member approaches her for help, there's only one person she can to turn to… and he's just as infuriatingly sexy as she remembers. Oh boy.
New Orleans Detective Brady Taylor has his sights on the finish line: getting promoted to sergeant. Nothing, and no one, is getting in his way–except that he didn't prepare for her return, the girl who left him without a word. Resisting Shaelyn has never been his strong suit, and now all he can think about is stripping her out of her f*ck-me heels and kissing the lipstick off her sassy mouth. And when she asks him for help, he's forced to decide between his career and the woman he's never stopped loving.
Rule #3: Don't even think about falling in love again…
SAY YOU'LL BE MINE is the first full-length novel in the NOLA Heart series, but can be read as a standalone. If you like quirky characters, hot cops, and steamy scenes that will have you fanning your kindle, then you're in the right place. Things are about to get hot down in the Big Easy…
Click here to get this book for FREE
° ° ° ° ° ° ° ° ° ° ° ° ° °
The Jess Williams Trilogy: The Reckoning / Brother's Keeper / Sins of the Father (A Jess Williams Western Book 1)
by Robert J. Thomas, Nancy Bach

(113 Reviews)
Genre: Literature & Fiction | Westerns | Action & Adventure
FREE for a limited time
From the Author… Offered for the first time ever comes the Jess Williams Western Trilogy that started it all. This trilogy will only be offered for a limited time in e-format. It includes the full copies of the first three books in the long-running series of Jess Williams adventures.
Note: If you have already purchased the first three books in the series, don't buy this unless you just want to add it to your collection. If you haven't read a Jess Williams western yet, this is the perfect time to get the first three books in their entirety. Hopefully, you will enjoy them and continue on with the rest of the series.
Description of the books in this Trilogy…
THE RECKONING starts out this western series with the adventures of Jess Williams. He is an ordinary young boy with a loving family growing up in Black Creek, Kansas. That all changes when he comes home and finds his family brutally murdered. Forced to become a man overnight, he vows to avenge his family's savage deaths.
He begins to practice with his pa's Colt .45 and then a stroke of destiny arrives when he discovers a new pistol and holster that mysteriously appears. Jess practices with it relentlessly until he becomes so quick that he is truly unbeatable on the draw. He leaves home transformed from a boy to a highly skilled shootist with no reason to live except to hunt down and kill each of the men responsible for the murders. As he begins his journey, he does so with a pistol and holster that no one has ever seen before — and won't again for almost one-hundred years.
In BROTHER'S KEEPER, Jess Williams returns home to Black Creek, Kansas, after hunting down and killing the three men who brutally murdered his family. When he arrives, he finds himself in the midst of a bloody war with Dick Carter and his hired guns. Carter wants revenge for the death of his only son, Red, and Jess is the one who did the killing. Jess's first job is to eliminate Carter and his hired guns and then finish his search for the brother he never knew he had.
SINS OF THE FATHER has Jess hunting down his real father, Eddie Sloan. After two years, he finally has him in his sight when a desperate call for help comes in from U.S. Marshal Frank Reedy. Jess answers the call for help and heads for Timber, Texas, and straight into a bloody range war between two cattle barons. Rance Madden and his hired guns have no idea of the trouble heading their way. Jess arrives and men start dying one by one. Madden begins to feel the grip of death at his throat — and Jess is slowly tightening the noose.
Click here to get this book for FREE
° ° ° ° ° ° ° ° ° ° ° ° ° °
Dead and Breakfast (The New Orleans Go Cup Chronicles, Vol. Two Book 2)
by Colleen Mooney


(83 Reviews)
Genre: Mystery, Thriller & Suspense | Mystery | Women's Fiction
FREE for a limited time
DEAD IN BED… WHO YOU GONNA CALL?
Good Irish Channel Catholic school girl that she is, Brandy Alexander's a true and trusted friend — not to mention something of a detective– so who else would you call if you found a full-blown murder mystery in your bedroom? Exactly. So when Brandy's best friend Julia, the ex-stripper-turned hotelier, finds her first guest covered in blood, lying half on and half off a broken bed — with Julia's panties swinging from the chandelier – she gets Brandy on the horn. Cool-hand Brandy assesses the situation, and carries out the only sensible course of action: first she makes a pot of coffee, then she calls the police.
And who should respond but her recent ex-boyfriend, Dante, with a brand new daggers-looking female partner. But wait! That isn't nearly complicated enough for Noo Awlins, where, after all, everybody knows everybody. Julia's lawyer is none other than Jiff, Brandy's new squeeze (and the reason Dante's the ex-boyfriend).
But there's still another complication, in the form of MY FRIEND'S BIG FAT POUFFY-SKIRTED ITALIAN WEDDING — which will have every chick lit fan who ever put on a bridesmaid's dress rolling on the floor! While Brandy and Jiff try to keep Julia out of the slammer, Brandy's oldest school chum is getting married, and with eighteen bridesmaids, Brandy can't escape being recruited, partnered with who else? Her favorite upstanding Italian member of NOLA's finest – Dante.
As the suspense mounts, the romance blossoms, and not just one– Jiff 's looking more and more like Mr. Right: a 100% Class Act, with his own Schnauzer and a soft spot for Brandy's three. But Dante makes it clear that he doesn't plan to go quietly; the former Mr. Right Next Door has a few very sexy moves he's been holding in reserve, which knock Brandy's socks – and truth be told, her panties–off!
With this one, Brandy's fast becoming a female sleuth extraordinaire with a Big Easy flair, and cozy fans will be delighted to find her slapstick style a bit reminiscent of Janet Evanovich's Stephanie Plum. Fans of Stephanie Bond, Jana DeLeon, Joan Hess, Lisa Lutz, Sarah Strohmeyer, and Elaine Viets may also find a kindred spirit in this New Orleans dawlin'.
Click here to get this book for FREE
° ° ° ° ° ° ° ° ° ° ° ° ° °
The Far Journey: A Timeslip Novel of Survival on the Oregon Trail
by Tom Reppert


(40 Reviews)
Genre:
FREE for a limited time
Young, sharp-tongued Paula Masters, used to her cell phones, cherry lattes and designer jeans, suddenly finds herself thrust back in time to 1848 and the Oregon Trail. In modern life, she rebels against the curfews and restrictions of her day, seeing them as unfair hardships. But now in this alien world with its buffalo stampedes, wild Indians, and deadly pestilence, she is about to find out what real hardships are. To get home, she must set aside her Rude Girl persona and learn how to survive.
On the trek, Paula meets young Daniel Langdon, hunter and part-time scout, and an infatuation quickly becomes a great passion. She realizes this is the love of her life and to get home she will have to leave him behind.
In the tradition of Outlander, The Far Journey is a grand epic of love and tragedy, loyalty and betrayal, peril and survival. Throughout, Paula Masters is tested in body and soul and must discover the strength and toughness inside her.
Click here to get this book for FREE
° ° ° ° ° ° ° ° ° ° ° ° ° °
Under a Broken Sun
by Kevin P. Sheridan


(55 Reviews)
Genre: Science Fiction | Science Fiction & Fantasy
FREE for a limited time
When the lights go out across the globe, a rebellious son must cross half the country on foot to reach his father in Chicago and save him from the Christian extremists who have declared him the Anti-Christ.
Click here to get this book for FREE
° ° ° ° ° ° ° ° ° ° ° ° ° °