I finally found the gift for my hubby that truly made him smile. Up until now all the gifts I ever gave him only made him nod with appreciation. That's no fun. No fun at all. But the early Father's Day gift I gave him yesterday made him giggle like a little boy. He was so excited about it he put it together right away and tested it out. As you can see from the picture, Junebug is quite excited about it as well. Yes, I got my hubby a doggie basket for his bike. Those two are quite the pair.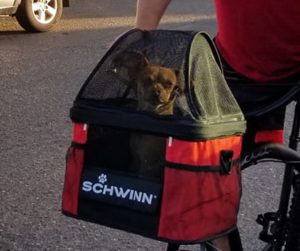 The Saint's Rise (Ignifer Cycle Book 1)
by Michael John Grist

(33 Reviews)
Genre: Teen & Young Adult | Fantasy
FREE for a limited time
No heroes endure…
Three thousand years ago the world fell into darkness, when the great black mouth of the Rot ravaged the land. Across the glorious library city of Aradabar its dark tongues hammered down, leveling the glass towers of learning and entombing the bookyards in a thick blanket of lava. Only a single child survived the devastation; an infant with a prophecy carved into his skin, promising the rise of a hero powerful enough to slay the Rot for good.
Now that child is a young man, beginning to question the meaning of his many scars…
Now those scars are hunted by a jealous King, ruler of a brutal industrial city, where a thousand bizarre castes toil away like slaves…
Now a dark beast is watching, an Unforgiven, seeking to fulfill a promise made long ago…
And now the Rot has returned, its great black mouth gaping large in the sky, bringing chaos and fear to a world where no heroes endure…
The first book in The Ignifer Cycle, a new epic fantasy series.
Click here to get this book for FREE
° ° ° ° ° ° ° ° ° ° ° ° ° °
Hill of Secrets: An Israeli Jewish mystery novel
by Michal Hartstein


(220 Reviews)
Genre: World Literature | Literature & Fiction | Contemporary Fiction
FREE for a limited time
On a blooming May morning, the five bodies of a religious family are found in their apartment in the quiet suburb of Samuel's Hill (Giv'at Shmuel).
Detective Hadas Levinger, the renegade atheist daughter of a religious family, is put in charge of the police investigation. Slowly and skillfullym she peels away the shell protecting this unique community, and reveals hard and painful secrets.
Can she survive them?
Click here to get this book for FREE
° ° ° ° ° ° ° ° ° ° ° ° ° °
Painting the Moon (Chilton Crosse Book 1)
by Traci Borum


(225 Reviews)
Genre: Women's Fiction | Literature & Fiction | Contemporary Fiction
FREE for a limited time
When Noelle Cooke inherits a quaint English cottage and an art gallery from her famous Aunt Joy, she welcomes a departure from her San Diego routine. But the lure of the Cotswolds, combined with a locked cottage room and a revealing journal, entice her to stay and discover more, including a way to save the gallery from financial ruin. And that means remaining in England.
When her childhood sweetheart, Adam Spencer, begins work on a restoration project in Noelle's village, their friendship blossoms. But as her feelings for Adam deepen, she struggles with memories of what might have been and yearns for a future once thought lost. Faced with a life-altering revelation Aunt Joy took to her grave and a wrenching choice regarding the man she loves, Noelle could lose far more than her heart.
Click here to get this book for FREE
° ° ° ° ° ° ° ° ° ° ° ° ° °
KILLING PLATO (The Jack Shepherd International Crime Novels Book 2)
by Jake Needham


(145 Reviews)
Genre: Thrillers | Political | Action & Adventure
FREE for a limited time
Jack Shepherd was a politically connected American lawyer until he traded the fierce intrigues of Washington for the quiet life of a college professor in Thailand. Everything had been going pretty well for him there, too, at least it had until the day he walked into a bar on the jet-set island of Phuket and found the world's most famous fugitive waiting for him.
Plato Karsarkis was an international celebrity straight out of Vanity Fair until a New York grand jury indicted him for smuggling Iraqi oil and charged him with racketeering and money laundering. There's also the matter of a woman he may or may not have murdered to cover it all up. When Karsarkis fled the United States and disappeared, the world's media whipped itself into a frenzy searching for him.
Karsarkis is waiting for Shepherd in that Phuket bar because he wants to hire him. He figures a presidential pardon would be his ticket back to America, and he thinks Shepherd's connections to the White House just might get it for him. But the U.S. Marshals are in Phuket, too, and they need Shepherd's help as well. The marshals want Shepherd to set a trap for Karsarkis so they can grab him and drag him back to New York. All Shepherd wants is for everybody to go away and leave him alone.
At least he does until he learns a chilling secret that plunges him a violent spiral of friendship and betrayal and pulls him straight back into the life he thought he had left behind in Washington.
The marshals aren't really in Phuket to arrest Plato Karsarkis.
They're there to kill him.
Click here to get this book for FREE
° ° ° ° ° ° ° ° ° ° ° ° ° °
Drive Nacho Drive: A Journey from the American Dream to the End of the World
by Brad Van Orden, Sheena Van Orden


(115 Reviews)
Genre: Travel
FREE for a limited time
On an afternoon just like many before it, Brad Van Orden sat at his desk. When a coworker meandered past his window, Brad succumbed to an impulse and blurted out the most outlandish thing he could think of — "Hey Steve, let's drive your hippie bus to Tierra del Fuego." This prompted Steve's halfhearted response: "I don't think so."
But this got Brad thinking. What if we just dropped everything and left? Isn't there more to life than this? He messaged his wife with a question: "Want to do this?," to which she immediately responded: "Yes!" They clearly had no idea what they were getting themselves into.
Drive Nacho Drive tells the hilarious and sometimes harrowing story of what happens when Brad and Sheena Van Orden trade in the American Dream for a year on the roads of Central and South America aboard "Nacho," their quirky and somewhat temperamental Volkswagen van.
As a result of questionable decision-making skills and intermittent bad luck, Brad and Sheena repeatedly find themselves in over their heads. Whether negotiating cliff-hanging roads in rebel territory, getting caught illegally smuggling a transmission in a suitcase over international lines, mounting a stealth mission to steal Nacho back from a deranged Colombian auto dismantler, or clinging to the side of a vegetable truck while descending a 16,000 foot Andean pass, there seems to be no limit to the predicaments that these two can get themselves into.
With Drive Nacho Drive, the Van Ordens deliver a thoughtful, hilarious, and mouthwatering depiction of adventure and misadventure on the Pan-American highway — one that will leave you simultaneously shaking your head and holding your sides, while asking yourself, isn't there more to life than this?
Click here to get this book for FREE
° ° ° ° ° ° ° ° ° ° ° ° ° °