I have decided to have a garage sale this weekend. No I didn't. This is what has been going on in my head for the last few days. I am tormenting myself and hubby with indecision. I am starting to act like Smeagol / Gollum again from the Lord of the Rings trilogy. Lets face it, Smeagol / Gollum is my spirit animal. Slap a turtle shell on that guy and you basically have me. A slow jogger that argues with herself, whose spends all her time looking for her precious/cake. And I am totally cool with that!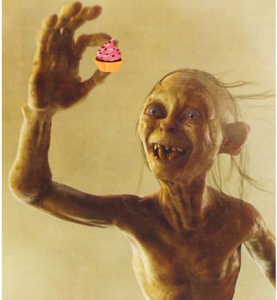 Michelle
by Ayala Yoked

(17 Reviews)
Genre: Literary Fiction | Literature & Fiction | Historical Fiction
FREE for a limited time
Michelle is in trouble – but she's fighting for her ideals!
In this psychological romance a group of university students and soldiers go underground to try to implement ideas about which they are passionate. The French police are after them. Michelle has just been released from jail in France after attempting to damage an arms factory.
Michelle has two lovers – but she's not in love!
Michelle comes to Israel and rekindles her romance with David, a middle-aged, married professor. Tom, her student lover who had been wounded in war, and Gad, David's son, are also among the rebels. Michelle is intellectual, arrogant and teasing – and not committed to either of her lovers.
Michelle's rebel group depends on her – but nothing is simple!
Michelle's friends know they can rely on her, but they each struggle with their own internal conflicts. David is terrified about his son's entanglement in illegal activity. His own failure as a soldier still haunts him. David's sister, Pola, comes to visit and supports their activity. These idealistic rebels will inspire you, despite their dilemmas!
Click here to get this book for FREE
° ° ° ° ° ° ° ° ° ° ° ° ° °
Linkage (The Narrows of Time Series Book 1)
by Jay J. Falconer


(200 Reviews)
Genre: Science Fiction | Science Fiction & Fantasy
FREE for a limited time
Revolutionary Technology. Risky Experiments. Interstellar War.
Physicist Lucas Ramsay hoped to usher in a new technological age of deep space exploration. However, instead of advancing science, his antigravity reactor triggers mass casualties across his home state. But the deadliest aftershock will come from beyond the stars when the ground-breaking experiment destabilizes an intergalactic realm belonging to a sadistic race of flesh-eating creatures. The aliens consider the penetrating gravity wave an act of war and won't rest until they annihilate every last one of its newfound enemy.
With Earth facing mass extermination, Lucas must survive certain death long enough to help find a way to stop an onslaught so advanced it defies human understanding of physics and time. However, he soon learns that nothing around him is as it appears to be when secrets are revealed, friendships are erased, and reality is challenged.
Linkage is the first book in a gripping saga of apocalyptic sci-fi novels. If you like non-stop pulp fiction action, intergalactic invasions, and unexpected twists and turns, then you'll love Jay J. Falconer's interstellar thriller.
Click here to get this book for FREE
° ° ° ° ° ° ° ° ° ° ° ° ° °
Taking the Fall: A Cozy Mystery (Brenna Battle Book 1)
by Laney Monday


(410 Reviews)
Genre: Mystery, Thriller & Suspense | Mystery | Women's Fiction
FREE for a limited time
Olympian Brenna Battle once had the fire. Now, she's just burned out — and burned by love. She's ready to retire from competitive judo and pursue a new dream in a new town, with her biggest supporter, her recently divorced little sister, Blythe. But on their first day in town, Blythe falls for local sleaze-bag reporter, Ellison Baxter, and their small-town welcome is stained by Baxter's murder. The weapon — Blythe Battle's hair brush.
In this fast-paced, fun cozy mystery, Brenna, the proud new owner of the building that formerly housed Bonney Bay's lone recreational opportunity for kids, Little Swans Ballet, is ready to turn tutu-clad powder-puffs into little warriors by opening a judo school for kids in its place. But now she must clear her sister's name and save her new dream from ending even more disastrously than her Olympic hopes. Brenna must deal with one crazy member of the local police force, who's determined to see the sisters pay — and another cop, whose deep brown eyes just might drive Brenna crazy — in a way her battered heart just can't take.
Taking the Fall is the first book in the Brenna Battle series. At the end of each book, the mystery is solved and there are no cliff-hangers.
Click here to get this book for FREE
° ° ° ° ° ° ° ° ° ° ° ° ° °
The Knights Templar: The True and Surprising Story Of Histories Most Secretive Order
by Patrick Auerbach


(53 Reviews)
Genre: History
FREE for a limited time
Arguably one of the most provocative, puzzling, and misunderstood organizations of medieval times, the legendary Knights Templar have always been shrouded in a veil of mystery, while inspiring popular culture from Indiana Jones to Dan Brown.
The order of the Knights Templar was founded by Hugh de Payens, a French nobleman from the Champagne region, along with eight of his companions, in Jerusalem around 1119.
They originally consisted of a group of knights who protected Christian pilgrims travelling to the Holy Land against attack from brigands and Saracen pirates, after the crusaders captured Jerusalem in 1099.
The order's full name was the "Poor Fellow-Soldiers of Christ and of the Temple of Solomon".
They were given quarters next to the temple and adopted their distinctive uniform – white tunics with an eight-pointed blood-red cross.
In 1129 they took monastic vows of poverty, chastity and obedience and pledged themselves ready to die for their faith.
They were gradually transformed into a chivalric order of warrior-monks who fought with distinction in the Crusades.
Click here to get this book for FREE
° ° ° ° ° ° ° ° ° ° ° ° ° °
Family Dinner Cookbook
by Olivia Rogers


(28 Reviews)
Genre: Health, Fitness & Dieting
FREE for a limited time
This is the ONLY cookbook you will need! Get delicious recipes that are quick & easy to make, very healthy, and that your family will love!
Imagine making healthy family dinners that are so delicious your kids are asking for it again and again!
What if you could have a massive collection of proven delicious family dinner recipes, so you never run out of dinner ideas (and can make something different every day)?
Multi-time best selling cookbook writer and influencer, Olivia Rogers, presents the most popular and best selling "family dinner cookbook" on Amazon, which includes a compilation of the tastiest family dinner recipes as voted by Olivia's 10,000+ readers and fans. You are guaranteed to find a few winners here with your partner and the kids!
If you don't have the time to plan out a different dinner every night that is both tasty and healthy… If you want everyone in your family to absolutely love your cooked meals every night… Or if you enjoy cooking and want to try something different but not spend hours in the kitchen…
THEN THIS BOOK IS FOR YOU!
In this book, you will get:
• Images included with every recipe, so you can see exactly what your meal will look like before you begin.
• A massive list of recipes within different cuisines that are healthy, delicious, and guaranteed that the whole family will love.
• Comprehensive step-by-step instructions for each recipe, so that anyone can follow along (even if you have never been in the kitchen before!)
• A full list of all ingredients required before you start and also tips to improve the meal nutrition and taste.
• Olivia's personal email address for unlimited customer support if you have any questions.
• And much, much more…
Click here to get this book for FREE
° ° ° ° ° ° ° ° ° ° ° ° ° °