I was out in the garden this morning cutting flowers for my baby basset's teacher for Teacher Appreciation week. It's funny how I spend so much time in the garden, cleaning, weeding, and making it look great, but never really stopping to smell the roses. I took a second to do that today. I forgot how much I loved my roses. How did that happen?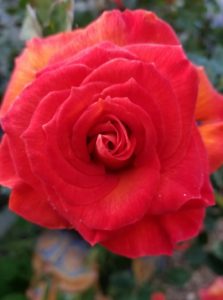 It Only Takes Once (A Village of Ballydara Novel Book 1)
by Susan Colleen Browne


(35 Reviews)
Genre: Literature & Fiction | Women's Fiction | Contemporary Fiction | Romance
FREE for a limited time
In this breezy Irish tale of love, friendship and family, twenty-six-year-old Aislin, a Dublin single mum, is at a crossroads: while a lot of her life needs improvement, what she really needs is a father. Not for herself, mind, but for her young son, daddy-hungry Kevin–and she's determined to succeed at motherhood, if nothing else. So Aislin follows the mad impulse to track down the perfect father-figure for her little boy… who else but Ben Carpenter, her first love.
As handsome and charming as ever, and a steady kind of guy you can always depend on, Ben is great father material–and is soon mad about Kevin. Still, commitment-shy Aislin is determined to keep things platonic, especially after her truly awful breakup with him seven years ago. But she has a way of mucking up her most inspired schemes. Tucked away in Ben's country manor house in County Galway, Kevin in tow, she finds herself falling in lust with Ben, yet she wonders if she can risk her heart a second time. Then a surprising gesture from her estranged father creates a seismic shift in her relationship with him, and Aislin embarks on a journey with unexpected consequences. In this heartfelt novel of second chances and forgiveness, will Aislin find her own fairy-tale ending?
Click here to get this book for FREE
° ° ° ° ° ° ° ° ° ° ° ° ° °
Gather The Children (Chronicles of the Maca Book 2)
by Mari Collier


(20 Reviews)
Genre: Teen & Young Adult | Literature & Fiction | Westerns
FREE for a limited time
Two aliens of different species, fathered by a Justine man, are living their lives in 1860's Texas: one filled with rage against the world, the other drawn to return to his homeworld and reclaim his land.
Before they learn to navigate a confiscated spaceship between the stars, they need to find trust in each other and stay alive in a hostile, dangerous land torn by civil war.
But after two strong-minded Earth women alter their plans, they must make hard choices about their future. Is revenge more important than love?
Click here to get this book for FREE
° ° ° ° ° ° ° ° ° ° ° ° ° °
FLOAT
by Michael Bussa


(9 Reviews)
Genre: Suspense
FREE for a limited time
Calder made mistakes he would pay for, though he didn't think it would be with his life. He quickly learned that everything he believed about dying wasn't true, after all.
From the author of The Peace of Pi, and Ending in V, comes a haunting new tale that will keep you turning the pages, to the unexpected ending.
Click here to get this book for FREE
° ° ° ° ° ° ° ° ° ° ° ° ° °
Life, Everlasting
by C.D. Loza


(15 Reviews)
Genre: Literature & Fiction | Family Life | Coming of Age | Teen & Young Adult
FREE for a limited time
What happens when we die? What is heaven like and what happens in eternity?
When Peter woke up, he had no memory of his life. He didn't even know his name or what part of the world he was. Until he met Zarath, who jugged his memory and made him remember in the strangest of ways. From being sucked into a book to repossessing his old body and his old life, Peter was made to remember everything that has happened until the very end. But that end was just the beginning. A beginning that would take him beyond his wildest imagination of what life, no matter how lost, could still be.
Meanwhile, after their son's death, Theresa and Gino packed their bags and moved to the US to start a new life. After decades of spending time away from each other, they're forced to live together in a foreign land. As past wounds come to the surface, Theresa has to grapple with what it means to start all over again after everything she's ever dreamed of fell apart. Finding strength in herself she otherwise didn't know, Theresa restarts her life in ways that both terrifies and energizes her.
Life, Everlasting is a story of a family coping with loss. Told in alternating voices of Peter and Theresa, it is a story of new beginnings, of finding one's footing in strange grounds and of marching on and discovering that life goes on for both the departed and those left behind.
It is also a story about eternal life and what heaven means in the concept of eternity. What happens to each and everyone of us after we depart this Earth and move on to another. It is a story about the ties that bind, the connections that link us beyond death and unto the everlasting life.
Click here to get this book for FREE
° ° ° ° ° ° ° ° ° ° ° ° ° °
50 Shades of Chicken: Quick, Easy and Unique Recipes
by J.R. Stevens


(9 Reviews)
Genre: Cookbooks, Food & Wine
FREE for a limited time
Discover 50 seductive recipes in 50 Shades of Chicken. Have chicken every way you like it – roasted, grilled, baked, pulled, in pot pies, and in salads.
Click here to get this book for FREE
° ° ° ° ° ° ° ° ° ° ° ° ° °