I never understood He-Mans nemesis, Skeletor. The guy is ripped with huge muscles all over his body, except his face. I'm really curious about what is under his hood. How is his head connected to his body? Why is it just his head that has no muscles or skin? I don't remember ever seeing Skeletor workout, so how does he stay in shape? Must be witchcraft because people who are that muscular don't have time to plot schemes to take over the world, right? Plus all that working out should make him happy, not evil. It just doesn't make sense.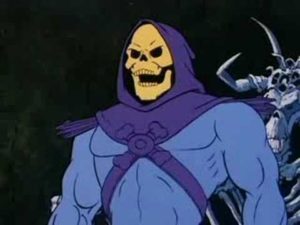 Broken Build: Silicon Valley Romantic Suspense (Chance for Love Book 1)
by Rachelle Ayala

(166 Reviews)
Genre: Romance | Literature & Fiction | Women's Fiction
FREE for a limited time
When a woman wrongs a man… can a man forgive and love?
Jen Jones hides a horrible secret behind her new degree, toned body, and exciting job at Silicon Valley's hottest startup — until a man linked to her past is killed in a hit-and-run.
CEO and founder Dave Jewell is about to land a huge deal. He doesn't need blood on his car, threatening phone calls, and Jen wrapped in broken code and blackmail.
A gang of thugs hunts Jen, and she takes refuge in Dave's protective arms. Together, they must thwart a killer and rescue an innocent victim from their past. Love blossoms, but a damaging revelation points straight at Jen, threatening to tear them apart forever.
Click here to get this book for FREE
° ° ° ° ° ° ° ° ° ° ° ° ° °
Some Like It Witchy: A Paranormal Witch Cozy Mystery (Main Street Witches Book 3)
by Ani Gonzalez


(44 Reviews)
Genre: Mystery, Thriller & Suspense | Mystery | Women's Fiction
FREE for a limited time
Candlemaking witch Fiona Hart knows that Banshee Creek is the perfect place for her store. Unfortunately, handsome firefighter Gavin MacKay doesn't agree. When a visiting tourist dies using her Sorceress' Best candles, Fiona is on the hot seat. She must find the culprit before the dreaded Banshee Creek Fire & Rescue Department closes down her shop forever.
Click here to get this book for FREE
° ° ° ° ° ° ° ° ° ° ° ° ° °
Lily of the Valley (Hymns of the West Book 4)
by Faith Blum, Kelsey Bryant


(31 Reviews)
Genre: Religion & Spirituality | Westerns | Religious & Inspirational Fiction
FREE for a limited time
Unruly schoolchildren, three suitors, and too many things to do
It is Ruth Brookings' first year teaching school. She wants to instill a love of learning into them, but between the unruly children and persistence of an unwanted suitor, she is overwhelmed.
To make matters worse, when Ruth prays for guidance, she's answered with a challenge instead: To encourage her friend, Sheriff Micah Carson to find a wife — whether he wants one or not. When she does, he starts to avoid her and the shy teacher wonders if she just lost one of her only friends.
Will Micah start talking to her again? Can God teach her to trudge through the valley and still trust Him when things get tough?
Although this is the fourth book in the series, it can be read as a standalone. Most of the characters were introduced in the first three books of the series, so some character development will be missing in this book, but not so much you can't enjoy the book itself.
All the Way, a spin-off book about Ruth is also now available for preorder at a special price.
>>>>>>
Excerpt:
Ruth rested her books precariously on her left arm as she put the key in the lock. The lock snapped and she gripped the doorknob. As she turned the knob, a boot thumped on the bottom step behind her. Ruth spun around and her books crashed to the porch as she faced the intruder.
"I'm sorry. Did I startle you?" Micah asked.
Ruth put a hand to her heart as if making sure it hadn't left her chest. "Yes, you did." She laughed nervously. "You need to stop practicing your Indian walking."
Micah grinned sheepishly. "Sorry about that. I thought you saw me. You must've been lost in thought under that big hat of yours."
Ruth huffed. "I'll have you know this hat was specially made for me by Joshua. He knew I didn't like bonnets because they shade the sides of my face too much."
Micah smiled as he bent down and helped Ruth pick up her books and papers. "I know. I just like teasing you about it. How'd the first day of school go?"
"After a minor problem at the beginning, the day went very well."
"A minor problem?" Micah asked as he picked up the last book and straightened. "This wouldn't involve my son, would it?"
Ruth cleared her throat. "Um, yes, it would."
Micah frowned. "What did he do this time?"
"Nothing needing discipline, just a little correction. And it wasn't just him; John Jenkins, and Clem and Chancy Lancaster were also to blame. I took care of it and hopefully most of their classroom antics will be avoided by splitting them all up during class."
Micah raised his right eyebrow. "I hope so. Let me know if Jeremiah causes too much trouble."
Ruth looked up at him with a smile. "I plan to. Just like I plan to tell any of the parents if their child gets to be too much trouble."
Micah chuckled. "Thank you, Miss Brookings. I'd better get back to the office to make sure Obadiah isn't getting into trouble." He handed her the stack of books and papers.
"Your deputy is causing trouble?"
"Nah. He just likes to think he's the sheriff and do some of the paperwork. Then he messes it up so much I end up spending twice as long fixing it than I would if I'd done it to begin with."
Ruth laughed and shook her head. "Then you'd better get back fast. I have school assignments to figure out anyway, so I have plenty to work on tonight as well."
Micah tipped his hat at her. "Talk to you again soon, Miss Brookings."
"Same to you, Mr. Carson."
Click here to get this book for FREE
° ° ° ° ° ° ° ° ° ° ° ° ° °
Blake Pierce: Mystery Bundle
by Blake Pierce


(9 Reviews)
Genre: Mystery, Thriller & Suspense | Mystery | Suspense
FREE for a limited time
Here is a bundle of the first books in two Blake Pierce series — the Riley Paige and Mackenzie White series — all here in one convenient place. This bundle offers a great introduction to Blake Pierce's series with over 140,000 words of reading.
In BEFORE HE KILLS, a woman is found murdered in the cornfields of Nebraska, strung up on a pole, the victim of a deranged killer. It doesn't take long for the police to realize a serial killer is on the loose — and that his spree has just begun. Detective Mackenzie White, young, tough, smarter than the aging, chauvinistic men on her local force, finds herself called in grudgingly to help solve it. As much as the other officers hate to admit it, they need her young, brilliant mind, which has already helped crack cold cases that had left them stumped. Yet even for Mackenzie this new case proves an impossible riddle, something the likes of which she — and the local force — have ever seen. With the FBI called in, together, an intense manhunt ensues. Mackenzie, reeling from her own dark past, her failed relationships, and her undeniable attraction to the new FBI agent, finds herself battling her own demons as her hunt for the killer takes her to the darkest places of her mind.
In ONCE GONE, women are turning up dead in the rural outskirts of Virginia, killed in grotesque ways, and when the FBI is called in, they are stumped. A serial killer is out there, his frequency increasing, and they know there is only one agent good enough to crack this case: Special Agent Riley Paige. Riley is on paid leave herself, recovering from her encounter with her last serial killer, and, fragile as she is, the FBI is reluctant to tap her brilliant mind. Yet Riley, needing to battle her own demons, comes on board, and her hunt leads her through the disturbing subculture of doll collectors, into the homes of broken families, and into the darkest canals of the killer's mind. As Riley peels back the layers, she realizes she is up against a killer more twisted than she could have imagined.
Click here to get this book for FREE
° ° ° ° ° ° ° ° ° ° ° ° ° °
A Taste of Italy: Authentic Italian Recipes
by Bonnie Scott


(16 Reviews)
Genre: Cookbooks, Food & Wine | Nonfiction
FREE for a limited time
Do you love to eat Italian food? Discover how easy it is to create authentic Italian recipes in your own kitchen.
If you enjoy Italian food, this recipe book is for you. Italian food has become a favorite with its variety, flavors, colors and easy availability of ingredients. It's kid friendly, easy to make, uses healthy fresh ingredients and you can create something that looks amazing in little time.
With A Taste of Italy: Authentic Italian Recipes, you can try out a whole new range of ideas that are amazingly delicious and will have your family wanting more, with recipes for:
• Best Marinara Sauce Recipe
• Fettuccine Florentine
• Fresh Vegetable Frittata
• Pomodorie Gnocchi
• Chicken Marsala
• Torta Di Ricotta (Sicilian Cheesecake)
• And more…
Now any mealtime can feel like you are back on that amazing vacation, where you dined on a Roman side street or in a bistro overlooking the Amalfi coastline. From a simple Sicilian Tomato Salad to the delicious Italian Cream Cake, you can be serving one amazing dish after another, every day of the week!
A Taste of Italy: Authentic Italian Recipes is a landmark book with 120 unique recipes that will transform any meal into something special. If you like Italian recipes, then you'll love this fantastic resource.
Click here to get this book for FREE
° ° ° ° ° ° ° ° ° ° ° ° ° °