My arms are actually sore from moving around my new seahorse sculpture that Ken from Welderup Yard Art, had made for me (click here to see all his amazing pieces). I spent a good hour of the evening moving it all around the yard looking for a good place to put it, but no place seemed right. I want to show it off and be able to see it as much as possible. I also have to find a spot that won't scare poor Junebug. She growls at it every time she walks by it. I'm not so sure she is in to awesome yard art. So this morning I woke up and my arms and legs are sore. I got a workout and didn't even notice I was doing it. It's as if my seahorse is magical. I'm going to have to name it. Maybe Coach.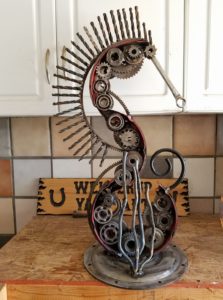 Kissing Kelsey: a Cowboy Fairytales spin-off (Triple H Brides Book 1)
by Lacy Williams


(16 Reviews)
Genre: Religious & Inspirational Fiction | Religion & Spirituality | Romance
FREE for a limited time
Heat flushed up his neck and into his face as he stared at her. Memories slid into place like marbles pouring into a bucket.
Finally, one thing in his life made sense.
Lacy Williams is a USA Today bestselling author of the acclaimed Wyoming Legacy and Cowboy Fairytales series.
He only remembers he loves her…
A head injury and resulting amnesia have ended Sergeant Matt Hale's military career. He can't remember the man in the mirror, the sister and brother he's told about, or the family ranch. But when he comes face-to-face with his girlfriend, memories of their high school romance return. With Kelsey by his side, he can deal with all the unknowns.
Except Kelsey Whitley isn't prepared to stand by the man she walked away from a decade ago. When Matt only remembers their time together and not the breakup — which she was responsible for — his injury and vulnerability keep her lips sealed. Those and the amazing welcome-home kiss he lays on her.
It isn't long before Matt realizes the truth — and asks Kelsey to stay. Will the hometown girl leave him behind a second time?
Click here to get this book for FREE
° ° ° ° ° ° ° ° ° ° ° ° ° °
Momentary Stasis (The Rimes Trilogy Book 1)
by P R Adams


(217 Reviews)
Genre: Science Fiction | Science Fiction & Fantasy
FREE for a limited time
World peace can be deadly.
Humans discover alien technology and start colonizing worlds outside the solar system. Genetic modification produces miracles. Science advances the human condition. And, for the first time in history, the nations of the world have achieved real peace with each other.
But only the elite truly benefit from all the advancements. Most people are still trapped on an Earth ruined by chemical pollution, nuclear accidents, and chaotic weather changes. Rebellious "genies"–genetically engineered servants–cause more harm than good. And global corporations have stripped the idea of nations and freedom of any real meaning.
Sergeant Jack Rimes is no stranger to intrigue. The U.S. Army Special Forces operator lives in a time where every nation on Earth is at peace… but there are plenty of secrets to go around. As corporate greed threatens humanity, genetically engineered humans are making international mayhem of their own.
After his unplanned reassignment to the Intelligence Bureau, Jack is tasked with tracking down a rogue agent implicated in a political assassination. As he and his new partner, an old flame, search the globe for answers, the truth shakes him to his core. The powers-that-be may not be very interested in keeping humanity alive…
Momentary Stasis is the first book in a provocative series of grimdark military sci-fi novels full of intrigue, horror, and action that unflinchingly explores the impact of technology and unbridled greed on humanity. If you like gritty, flawed protagonists, tech-heavy thrillers, and incredible new worlds, then you'll love the first installment from PR Adams' provocative new series.
Click here to get this book for FREE
° ° ° ° ° ° ° ° ° ° ° ° ° °
Tubby Dubonnet Mysteries Vol 5-6 (The Tubby Dubonnet Series)
by Tony Dunbar


(120 Reviews)
Genre: Mystery | Mystery, Thriller & Suspense
FREE for a limited time
The FIFTH and SIXTH funny, offbeat, and surprising legal thrillers in the Tubby Dubonnet series.
CORRUPTION, MURDER, AND A REALLY GREAT PO'BOY…
A New Orleans lawyer who'd rather eat, drink, and swap stories than get caught in court, Tubby Dubonnet, cleaving faithfully to his guiding principles "Never screw a client and never lie to the judge," manages, in his own laconic fashion, to right many of the wrongs that beset his clients. In these late-series books, he's experiencing the pride and satisfaction of new grandparenthood. And he's taken on some additional civic duties, agreeing to co-chair the reelection campaign of his good friend, Judge Hughes.
But in Tony Dunbar's books, New Orleans is The Big Sleazy squared. No one is safe, especially from their elected officials. Even if they are an elected official.
Half the fun of a Tubby Dubonnet book is watching his sly creator fit together a plethora of fascinating yet seemingly unrelated jigsaw pieces to form a picture you never saw coming. And the other half is hanging out with Tubby and his crew of eccentrics, sleazeballs, goofballs, and enticing, confusing babes in the Big Easy-to-Love. The food descriptions are no slouch either.
These are funny-hard-boiled mysteries with as many laughs as chills, because no matter how dire things get, Dunbar never loses his sense of humor
Vol. 5: CRIME CZAR
It's a city of sin. And murder is only one of them.
Tubby Dubonnet can't forget the last words that escaped an old friend's lips, and he can't get out of the way of a political campaign that's turning rough. Obsessed with the idea that a shadowy crime boss may be pulling the strings that have cost good people their lives, Tubby is entering into a test of courage with the most violent men in New Orleans. And if that weren't dangerous enough, he's just picked up the worst ally he could ever find: a beautiful prostitute gunning for revenge.
Vol. 6: LUCKY MAN
When the D.A. himself sets you up, you know you're going down…
So what if Judge Hughes shared a few special moments with Sultana Patel — why is this a matter of public interest? "The stench from that courthouse fills the city," roars D.A. Marcus Dementhe. "Those hypocritical men and women who wear the robes are filthy with deception." And Dementhe has a zany plan to snare them.
Hughes, happily, has had the good sense to hire epicurean lawyer Tubby Dubonnet, whose laconic air is belied by his zeal to protect his clients. And what a web they're ensnared in!
Click here to get this book for FREE
° ° ° ° ° ° ° ° ° ° ° ° ° °
The Puppet Boy of Warsaw: A compelling, epic journey of survival and hope
by Eva Weaver


(55 Reviews)
Genre: Literature & Fiction | Contemporary Fiction
FREE for a limited time
The story of Mika, a Jewish boy, who becomes a puppeteer in the Warsaw ghetto – a stunning debut for fans of The Tattooist of Auschwitz, The Boy with the Striped Pyjamas and Schindler's List
I was twelve when the coat was made. Nathan, our tailor and dear friend, cut it for Grandfather in the first week of March 1938. It was the last week of freedom for Warsaw and for us…
Even in the most difficult of lives, there is hope. And sometimes that hope comes in the form of a small boy, armed with a troupe of puppets – a prince, a girl, a fool, a crocodile with half-painted teeth…
When Mika's grandfather dies in the Warsaw ghetto, he inherits not only his great coat, but its treasure trove of secrets. In one remote pocket, he finds a papier mache head, a scrap of cloth… the prince. And what better way to cheer the cousin who has lost her father, the little boy who his ill, the neighbours living in one cramped room, than a puppet show? Soon the whole ghetto is talking about the puppet boy – until the day when Mika is stopped by a German officer and is forced into a secret life…
This is a story about survival. It is an epic journey, spanning continents and generations, from Warsaw to the gulags of Siberia, and two lives that intertwine amid the chaos of war. Because even in wartime, there is hope…
Click here to get this book for FREE
° ° ° ° ° ° ° ° ° ° ° ° ° °
Mini Farming
by Better Gardening Guides

(223 Reviews)
Genre: Crafts, Hobbies & Home
FREE for a limited time
Save Space & Save Time
Do you want a successful garden or mini farm in your backyard?
Do you not know where to start to create a sustainable organic garden?
Do you worry that your garden won't be something to be proud of?
A sustainable organic garden is within reach.
It doesn't matter if you are looking for a successful garden or a successful mini farm because this book can help you either way. You can create a sustainable organic garden right in your backyard that you can be proud of with crops that are producing a high and healthy yield. From fruits to vegetables, you can have organic crops that rival anything that you can find at the organic aisle in the store.
From making your own fertilizer and compost, to choosing livestock for manure, to maximizing your space and utilizing every inch of what you have, this book can help you along the way. Creating a sustainable organic garden in your backyard doesn't have to be hard, and with the tips and tricks found in this book it's even easier.
Everything you need to get started is found in this book. From tips and tricks to a guide on the best soil and plants to actually plant, you'll get suggestions on it all. Learn how to control pests, weeds, organically fertilize your plants, and get the most out of the plants you decide to plant. Learn how to create a sustainable and organic garden.
You Will Learn Mini Farming Strategies
What Mini Farming Actually Is
Learning How to Maximize Your Space
A Little More About Containers & Maximizing Space
The Types of Plants that Work Best
A Little Bit about Soil Types
Controlling Weeds Organically & Preemptively
The Importance of Organic Pest Control
Livestock Options & How They Help with Plants
A Helpful Routine Means a Good Harvest
Click here to get this book for FREE
° ° ° ° ° ° ° ° ° ° ° ° ° °