I can tell you right now what 50 pounds of awesome looks like. It looks like a seahorse welded from old motorcycle parts, drill bits, and gears. Ken, a local artist from Welderup Yard Art,( click here to find him on Facebook) had posted a few weeks ago a picture of a seahorse he had made, and I just about screamed when I saw it. I was in love! There are times when you see something and you just know you must have it, this was one of those times. I messaged him and asked if there was anyway he could make one for me, and thankfully he said he could. Now, I was expecting it to takes months before I would get my hands on it, but just a few short weeks later he was letting me know it was done. When I saw it in person I did what I always do… I screamed. I think I scream a lot. Might want to try and tone that down a bit. It was a lot larger than I thought it was going to be, and I think even better than the original one I had seen. I might be biased since this one is mine. Check out his  Facebook page for some really cool looking yard art he does. Make sure you give yourself a bit of time to browse the pictures. He does amazing work! So clever!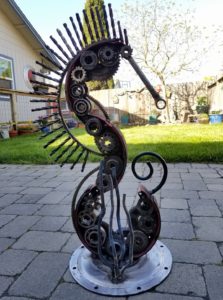 Disturb – A Medical Thriller (The Konrath Horror Collective)
by J.A. Konrath

(183 Reviews)
Genre: Thrillers | Horror
FREE for a limited time
A medical investigator tormented by secret guilt.
A beautiful doctor with an illicit desire.
A millionaire businessman indulging a passion for murder.
And a human guinea pig who has been awake for seven straight weeks.
DISTURB by JA Konrath
You'll never sleep well again…
It's the pharmaceutical breakthrough of the millennium. DruTech Industries proudly presents N-SOM, a pill that completely replaces eight hours of sleep. Feel totally refreshed, both physically and mentally, in just fifteen minutes a night.
The profit potential is boundless. Mankind's productivity will go through the roof. One third of a person's life could be recovered, for only ten dollars a dose.
The FDA sends CDER agent Dr. Bill May to green light N-SOM for American use. The pressure, both political and monetary, is tremendous. But Bill soon harbors fears that N-SOM may not be as safe as early reports indicate…
After meeting brilliant inventors Dr. Nikos Stefanopolous and his beautiful daughter Theena, Bill stumbles into an insidious cover-up that hinges on Emmanuel Tibbets, a human guinea pig who hasn't had a wink of sleep in over fifty days.
Bill's investigation soon unearths a snarled tangle of extortion, conspiracy, taboo sex, hidden secrets, and murderous betrayal.
When N-SOM's deadly side-effects are revealed, along with the shocking truth of how the drug is produced, Bill and Theena find themselves on the run from hired assassins, three letter government agencies, and a breed of psychopath unlike any ever known.
Billions of dollars, and billions of lives, are at stake. Can Bill and Theena survive long enough to expose the truth? Or will the world succumb to an evil that may bring about the extinction of mankind?
Click here to get this book for FREE
° ° ° ° ° ° ° ° ° ° ° ° ° °
The Stone of Secrets (Stone Trilogy Book 1)
by K. L. Nelson

(14 Reviews)
Genre: Historical Fiction | Literature & Fiction | Action & Adventure
FREE for a limited time
Professor Skye McAlister never dreamed archaeology could be so dangerous. But discovering a mysterious artifact in the Scottish Highlands has somehow landed her in more trouble than she can handle. It seems a secret society has taken an interest in her work of deciphering the lost language of the ancient Pict civilization, and it may just cost Skye her life. When a hunky FBI agent shows up, things get even more intense as he enlists the help of Skye and her team to crack the case that has stumped the Bureau's finest for decades. The investigation takes them on a chase through Medieval European history, and may help Skye find answers to even deeper questions about who she really is.
Click here to get this book for FREE
° ° ° ° ° ° ° ° ° ° ° ° ° °
Trouble in Peaceful Haven
by C. R. Leverette


(9 Reviews)
Genre: Literature & Fiction | Westerns
FREE for a limited time
Movian Jenks is a man haunted by his past.
On the world of Antridi, the Peaceful Haven settlement was established as a throwback to simpler times, modeled after the ideals of the Old West ways on Earth. But as the town was being built, a duo of bandits showed up and changed Movian's life forever.
Two years later, the town has thrived and life has continued, but Movian is haunted by his demons. And when troublemaker Darin shows up, things become even more complicated for all the townspeople of Peaceful Haven.
Set against the backdrop of an alien world, this sci-fi western offers a story of revenge, adversity, and, ultimately, forgiveness.
Click here to get this book for FREE
° ° ° ° ° ° ° ° ° ° ° ° ° °
Love Reimagined (Kings Grove Book 2)
by Delancey Stewart


(46 Reviews)
Genre: Literature & Fiction | Women's Fiction | Contemporary Fiction | Romance
FREE for a limited time
Sometimes finding the future you want means embracing the past…
Sam and Chance Palmer are both tall and dark, and look pretty damned good with a hammer hanging their tool belts as they run their construction business in the small mountain town of Kings Grove. But when it comes to the hottest eligible bachelors in town, Miranda George only has eyes for one of them. Chance–the one who won't even look her way unless it's because she's just spilled something on him or tripped directly into his path.
And while Miranda George has always had the hots for Chance Palmer, Sam has spent years trying to ignore his feelings for her. The problem is that they've known each other much too long, and Sam can't seem to repress his A-hole gene when she's around. He's given Miranda every reason to hate him, so why would he ever hope she might love him instead?
When a backcountry wildfire threatens everything and everyone they both love, will Miranda and Sam be able to look beyond their complicated past and see a future that might bring them together?
This smart, funny small-town romance is the second book in Delancey Stewart's Kings Grove Series.
Click here to get this book for FREE
° ° ° ° ° ° ° ° ° ° ° ° ° °
The Infinity Gene (The Infinity Gene | Science Fiction Adventures Book 1)
by J.J. Alston


(19 Reviews)
Genre: Science Fiction | Science Fiction & Fantasy | Action & Adventure
FREE for a limited time
A SECRET MUST BE KEPT… AN ANCIENT SOCIETY IS WILLING TO KILL… A GLOBAL EPIDEMIC MUST BE STOPPED.
***
Just after the Second World War, the world's most powerful man — ADOLPH HITLER was said to be dead.
He is not.
It's the Year 2018 and time is ticking away to find the missing pieces of a technology that could change everything before he does. It is a gene therapy that could keep Hitler and his soldiers alive or save humanity from worldwide extinction.
***
Shrouded in the underground subways of New York City, a mysterious society guards a facility that could hold the answer to mankind's greatest mysteries or could become a global epidemic.
In a secret lab, deep within the jungles of Costa Rica, Dr. Emily Hathaway has developed a genetic sequence that can extend human life. What more noble a cause she thinks, but how wrong she is!
In the hands of the the world's most powerful, her breakthrough can trigger an event that will destroy life as we know It.
Emily must find the missing pieces of her genetic puzzle before it's too late. But she's not the only one searching for it and the human race is depending on her to find it before they do.
Armed with a hard-boiled bounty hunter and a genius scientist the world has come to known as ALBERT EINSTEIN, together they must travel the world on a mission they'll never forget.
About The Infinity Gene
Although a work of fiction, this science fiction adventure, THE INFINITY GENE, has been researched extensively drawing upon the expertise of geneticists around the world to create a fast-paced, high-voltage, intense story that intermixes history, genetic experiments and real-life conspiracy theories into one hell of a thrill ride.
Click here to get this book for FREE
° ° ° ° ° ° ° ° ° ° ° ° ° °
Pie Cookbook: Delicious Homemade Pie Recipes You Can Easily Make! (Baking Recipes Book 1)
by Linda Harris


(4 Reviews)
Genre: Cookbooks, Food & Wine | Nonfiction
FREE for a limited time
Includes A Wide Variety of Delicious And Easy Pie Recipes You Can Easily Make!
Get This Pie Cookbook For A Special Discount (40% off)
This cookbook includes a variety of unique and delicious pie recipes that you can easily make at home. As a professional baker I have come across all kinds of pie recipes, and I would like to share my favourite pie recipes with you.
I have provided easy to follow steps with these recipes, so both beginner and novice bakers can make these fresh homemade pies. These recipes were the most popular in my bakery, and I think you will really enjoy them!
Click here to get this book for FREE
° ° ° ° ° ° ° ° ° ° ° ° ° °