I love little surprises that pop up in the garden. I planted tulips all over the garden, so I knew they would be popping up. The surprise was the color. I bought red, pink, and yellow. What a treat to see this little beauty.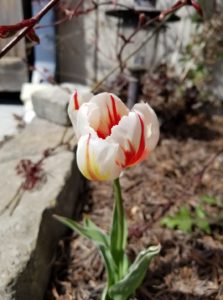 Strange Magic: A Yancy Lazarus Novel (Pilot Episode)
by James Hunter


(341 Reviews)
Genre: Horror | Fantasy
FREE for a limited time
Dark Magic and Monsters Threaten to Take Over LA
Yancy Lazarus — bluesman, mage, and former paranormal fix-it man — just wants to drink good bourbon, listen to great tunes, and keep his head down.
But when some kind of demonic nightmare carries out a series of brutal gangland assassinations in LA, Lazarus finds himself stuck in the middle of a deadly turf war with otherworldly forces closing in on every side. Now, he needs to figure out who is behind the twisted hoodoo before someone hexes him into early retirement. The kind of retirement that comes with a toe tag.
Click here to get this book for FREE
° ° ° ° ° ° ° ° ° ° ° ° ° °
Carolina Booty
by T. Lynn Ocean


(119 Reviews)
Genre: Literature & Fiction
FREE for a limited time
Jaxie Parker works for one of the best ad agencies in Atlanta and and thrives in the upscale fast lane. She loves everything about the big city including her power-packed days and party-filled nights. But life as she knows it comes to a screetching halt when the boss puts her in charge of the firm's annual pro bono project, which is to revitalize a small town. Unfortunately, Rumton, South Carolina doesn't have a mall or nightclub, much less a nail salon. For that matter, there's no hotel, either. Jaxie ends up rooming with an old man in an even older house that he shares with a dog and a thieving raccoon.
Just when Jaxie thinks that she's landed in a dreadfully uneventful place, things heat up pretty fast — there's much more to Rumton than meets the eye. Sexy men. A sinister plot to steal from the town. A raging wind storm. Quirky townspeople. And loads of astonishing pirate history. It all adds up to some major Carolina booty!
Click here to get this book for FREE
° ° ° ° ° ° ° ° ° ° ° ° ° °
CODE NAME: GRIFFIN: (Volume 1)
by Morgan Hannah MacDonald


(46 Reviews)
Genre: Literature & Fiction
FREE for a limited time
Like a viper, she strikes when you least expect it. She's the deadliest operative the CIA has ever known. Alexandria Kingston is The Griffin.
SHE'S BEAUTIFUL
After graduating from The Farm in Langley, Virginia, she's banished from the only family she'd ever known. Heartbroken and alone, Alex settled in Paris and threw herself into her work by taking every operation the CIA offered, as well as volunteering for those no one else would. In doing so she's made herself the most valuable female spy at The Company.
SHE'S CUNNING
Through the years, she's built quite the reputation. The chatter throughout the underworld is 'Kill the Griffin,' but as a master of disguise, no one truly knows what she looks like. Not even her lovers.
UNBELIEVABLY SEXY
Out of nowhere she gets a call to return home. Alex jumps on the next flight to the States where she learns that her adoptive family is in trouble. The Murphy clan is involved in organized crime and Margaret Murphy is the head of Boston's Irish Mob. When she is rushed to the hospital word spreads that her life is hanging in the balance. Someone has decided that he will be the next to lead the crime family and is willing to murder every last Murphy to make that happen.
UNDENIABLY DANGEROUS
Deception has always been a major part of Alex's life and returning home means facing the biggest deception of all, the one truth she's hidden even from herself: her love for Shane Donovan – the only man oblivious to her existence.
SHE'S THE GRIFFIN
Now Alex has joined her family in taking down the enemy. The only question is, how many will die in the process?
Click here to get this book for FREE
° ° ° ° ° ° ° ° ° ° ° ° ° °
The Drift of Things
by Ben Schwartz


(10 Reviews)
Genre: Literature & Fiction | Family Life | Humor & Satire
FREE for a limited time
Marked by razor-sharp dialogue, The Drift of Things is complex, witty, and sad, with an unforgettable father and son duo at its core. Norman Mean, age 30, is drawn back to his hometown to attend his mother's funeral and he has no intention of staying. However, his concern for his father's well-being causes him to stick around, despite a serious of hilarious and embarrassing incidents. And there's this girl…
Click here to get this book for FREE
° ° ° ° ° ° ° ° ° ° ° ° ° °
The Boy on Shady Grove Road: A Childhood of the 1940s and 50s in the South
by Clyde McCulley

(60 Reviews)
Genre: Biographies & Memoirs | Nonfiction
FREE for a limited time
Experience the resourceful spirit of Clyde McCulley as he explores in memory his humble but adventurous childhood in rural Arkansas in the 1940s and 50s. Though flavored with the hickory smoke of a southern upbringing, McCulley's juvenile innocence and sense of wonder capture universal mysteries and dreams of childhood as he comes to terms with family, friends, and faith in the segregated south. With wit and heartfelt gratitude, McCulley the boy ponders the most profound of human questions while celebrating the warmth of belonging, the joys of freedom, and the simple pleasures of life.
Click here to get this book for FREE
° ° ° ° ° ° ° ° ° ° ° ° ° °