This is the look I give when someone tries to remind me I am on a diet just before I eat a whole cake.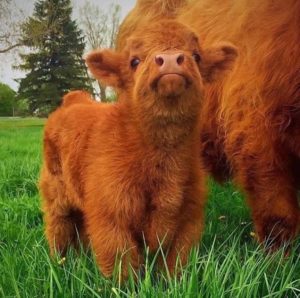 Slow Boat To Purgatory, Book One
by Vernon Baker


(210 Reviews)
Genre: Literature & Fiction | Religious & Inspirational Fiction | Action & Adventure | Religion & Spirituality
FREE for a limited time
Slow Boat To Purgatory…
Gaspar De Rouse, a Templar Knight, a man murdered by his brothers for the secret he possessed, resurrected and made immortal. Given a second chance at redemption he has walked the earth for over seven-hundred years.
Dominicus Bureau, a renegade priest, torn between his vows and the secret he pursues, a secret protected by an immortal. He carries a silenced pistol and uses it. Often.
Alex Donovan, a modern day warrior thrust into an ages old war, a war between good and evil, heaven and hell. Armed with an ancient chronicle of the life of Gaspar, Alex searches for the immortal and perhaps his own destiny.
All three men, passengers on a Slow Boat To Purgatory.
Click here to get this book for FREE
° ° ° ° ° ° ° ° ° ° ° ° ° °
Coffee, Tea, The Gypsy & Me: A feel-good novel of friendship and romance (Coffee, Tea… by Caroline James Book 1)
by Caroline James, Alli Smith


(48 Reviews)
Genre: Humor & Entertainment | Romance
FREE for a limited time
Jo's romance with the gypsy began with his first kiss, she never forgot it…
When Jo Edmond's husband runs off with their nanny and disappears into a Spanish sunset, Jo resolves to make a new life with her baby son. She impulsively purchases Kirkton House a run down guest house and with the help of a colourful cast of characters, establishes a thriving country house hotel. Jo opens the hotel during Fair Week, a famous 300 year old gypsy tradition, hated by the locals and loved by every tinker and traveller in the country. Romance is the last thing on her mind, until the enigmatic John Doherty walks into her life…
Assisted by Hattie, a local woman who becomes a friend, Jo's business succeeds and a new Jo emerges, attracting the attention of every man who comes within her radar. In Fair Week, Jo's errant husband turns up and begins a campaign to win her back but Black Monday is looming, the stock market crashes and tourism dries up. With difficult days ahead Jo has to reinvent her business to survive…
Click here to get this book for FREE
° ° ° ° ° ° ° ° ° ° ° ° ° °
The Lost One: A Russian Legacy
by Penelope Haines


(54 Reviews)
Genre: Historical Fiction | Literature & Fiction | Sagas
FREE for a limited time
She is an orphan, independent, unattached and free of any personal ties.
So why is Purdie Davis, an unexceptional nurse from New Zealand, receiving unsolicited gifts? Nothing ordinary but unusual, valuable antiques that must have a story behind them. Purdie doesn't know their source, and has no idea of their significance. Is she wrong to find this attention menacing?
A romantic saga spanning three generations, The Lost One begins as Kyril Komarov flees Moscow, escaping the Russian Revolution. The story crosses the globe as Purdie learns about her family and of the treasure entrusted to their protection at the dawn of the twentieth century, a treasure that now could put Purdie's own life in danger.
Balanced between the past and the present, with history, intrigue and fabulous Russian treasure, The Lost One unfolds one family's legacy
Click here to get this book for FREE
° ° ° ° ° ° ° ° ° ° ° ° ° °
Stalking Jack: The Hunt Begins… (Madeline Donovan Mysteries Book 1)
by Madison Kent


(76 Reviews)
Genre: Mystery, Thriller & Suspense | Women's Fiction | Mystery
FREE for a limited time
Follow Madeline into the streets of Whitechapel as she hunts down the demon, Jack.
The SS City of New York is about to embark on its maiden voyage to London. This lavish liner will have its passengers filled with wonder at its opulence. Madeline Donovan has set sail for London to escape a painful occurrence in her life, but instead she is drawn into the intrigue of a mystery that will have all of London and the world talking. Newspaper accounts of the first victim, of the infamous Jack the Ripper, reach the ship. After that, it is on everyone's mind, especially a group of women, who will entreat her to find their niece, who they believe may be in Whitechapel.
Jonathan Franks, a New York reporter, will become her constant companion, along with others that she will meet along the way. When she arrives in Whitechapel for the first time and sees the squalor and hopelessness that permeates the streets, she is determined to hunt down Jack.
NOTE: Although the victims and timeline are accurate and follow the actual facts, all suspects are fictionalized and do not represent any of the actual suspects including any Royals.
All Madeline Donovan mysteries may be read in any sequence.
Click here to get this book for FREE
° ° ° ° ° ° ° ° ° ° ° ° ° °
Tenth Year in the Sun (Book 1 of The Sankofa Sisterhood Series)
by Maureen Asantewaa


(17 Reviews)
Genre: Literature & Fiction | African American | Contemporary Fiction | United States
FREE for a limited time
A sisterhood bound by promise and woven with love.
Adoma, an idealist, inspires her closest friends — her soul sisters — to meet on an idyllic island off the coast of Africa for a ten-year reunion. She's longing to reconnect, especially since she's just turned her life inside out, leaving her former career overseas and her rich but controlling beau. Over the years, her friends have had their share of ups and downs too. Broken hearts, broken promises. They used to tell each other everything, but now Adoma senses secrets being kept, maybe even lies being told. What's behind them? What happened to the trust she needs so badly?
As the secrets unravel, a life-threatening disaster emerges. Storm clouds gather in their island paradise while the ties of old friendship are strained to the limit. No one – including Adoma, knows whether the sisterhood will survive… or if their lives will ever be the same.
Click here to get this book for FREE
° ° ° ° ° ° ° ° ° ° ° ° ° °