The day has finally arrived! My partner in crime and I have split up our homemade lip balms, lotion bars, and golden jars of honey, and are packaging them up to give to our friends and family. I have never been so proud or excited to give a gift in my life.I refuse to let anyone wait until Christmas to open them. I have been hand delivering them and just about screaming for them to open the package.  As soon as they open the box and take out the first item I go on and on about what each item is, how we made it and what it does. I am very similar to a child showing their parent the picture they drew in school. LOOK LOOK LOOK!! All I have to do is add a little dance in there and you wouldn't be able to tell the difference between me and a two year old. I am enjoying our creations as well. I have been a bit surprised how well the lotion bars and lip balms have worked. The lotion takes some getting used to since it doesn't just soak right in, its actually a bit thicker, but it is definitely much more effective. The lip balm also lasts forever on your lips and doesn't feel heavy. I am really going to have to explore these homemade products thing again. It really seems to be worth the effort.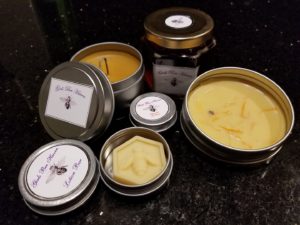 Super Quick Mysteries, Volume 1
by Andrew Stanek


(48 Reviews)
Genre: Mystery, Thriller & Suspense | Mystery
FREE for a limited time
Chuck is a lazybones who works at a sandwich shop. Andy is a reporter who can't quite seem to please his editor. Both have a knack for finding and solving mysteries, and there are plenty in the city of Lesser Redmond! Thirty super quick mysteries you can solve yourself!
Click here to get this book for FREE
° ° ° ° ° ° ° ° ° ° ° ° ° °
Sliding Beneath the Surface:
by Doug Dillon


(153 Reviews)
Genre: Teen & Young Adult | Suspense
FREE for a limited time
In America's oldest and most haunted city, St. Augustine, Florida, teenager Jeff Golden is in trouble. Horrible dreams won't let him sleep, and he is up to his eyeballs in terrifying, paranormal experiences.
Finally, Jeff turns to his girlfriend Carla, and Lobo, the mysterious Native American shaman, for help. But what he discovers is a lot more than he bargained for.
A ghostly presence linked to a local historic cemetery is not only threatening Jeff's sanity but his life as well. And before he knows what's happening, Jeff finds both himself and Carla pulled into one of the nastiest and most bloody events in Florida history. It is a place from which they may never escape.
Click here to get this book for FREE
° ° ° ° ° ° ° ° ° ° ° ° ° °
THE RECKONING: A Jess Williams Western
by Multiple Authors


(485 Reviews)
Genre: Literature & Fiction
FREE for a limited time
Don't let the prologue of this book fool you; this is a western novel.
The Reckoning is the first in the series of Jess Williams western novels written by Robert J. Thomas. Jess Williams is an ordinary young boy with a loving family growing up in Black Creek, Kansas. That all changes when he comes home and finds his entire family brutally murdered.
Forced to become a man overnight, he vows to avenge his family's savage deaths. He begins to practice with his Pa's Colt .45 and then a stroke of destiny arrives when he discovers a new pistol and holster that mysteriously appears. Jess practices with it relentlessly until he becomes so quick that he is unbeatable on the draw.
He leaves home transformed from a boy to a highly skilled shootist with no reason to live except to hunt down and kill each of the three men responsible for the murders of his family. As he begins his journey, he does so with a pistol and holster that no one has ever seen before–and won't again for almost one-hundred years.
Click here to get this book for FREE
° ° ° ° ° ° ° ° ° ° ° ° ° °
American Gypsy Girl
by Mary Zinda


(81 Reviews)
Genre: Literature & Fiction | Family Life | Coming of Age | Teen & Young Adult
FREE for a limited time
*2015 IndieBRAG Medallion Honoree
*2015 National Indie Excellence Award Finalist
*2015 Kindle Book Award Semi-finalist
*2016 Next Generation Indie Book Award Finalist
April 28, 1969. The future looks bleak for the baby girl asleep on top of her father's boxer shorts in the laundry basket, but she doesn't seem to notice. At the moment, Charlene Rae Bucher is blissfully unaware that she will spend her formative years living inside an aluminum camper with a disinterested, dope-smoking father and a vacant, vodka-loving mother. Her extended family will consist of a bunch of equally uninspired adults who park their campers alongside the Buchers. She is truly an unlucky baby.
But babies grow up, and the teenage Farrah Fawcett wannabe stuffs her bra and learns what she can about life within the chain-link fence of Creek's Edge Campground. A lesson learned inside a rubber tractor tire forces Charlene to grow up quickly–even when no one else around her will. With the help of the retired Methodist minister on site 11A and some eccentric people she meets outside Creek's Edge, Charlene begins to see that there's more to life than getting the high score on Donkey Kong. Traveling through a maze of misunderstandings, chance meetings, and new discoveries, eighteen year-old Charlene begins to build a life of her own that isn't on wheels.
American Gypsy Girl is a humorous novel of the dysfunction, friendships, lies, and loves that make up one girl's pursuit of the American Dream.
Click here to get this book for FREE
° ° ° ° ° ° ° ° ° ° ° ° ° °
Fifty Dead Men Walking: A true story of a secret agent who infiltrated the Provisional Irish Republican Army (IRA)
by Martin McGartland


(62 Reviews)
Genre: Biographies & Memoirs
FREE for a limited time
For more than four years, Martin McGartland lived the astonishing double life of a secret agent. To the IRA, he was a trusted Intelligence Office and an integral member of an active service unit. To the British Government however, he was known only as 'Agent Carol'. Martin McGartland is credited by British Intelligence with saving the lives of at least fifty people. Every time he tipped off the authorities, he risked detection and yet, heroically and fearlessly, he continued to pass on life-saving information. Finally, his cover was blown. Martin was taken from Sinn Fein headquarters in Belfast to an IRA safehouse for questioning and almost certain execution. Though guarded by armed men, in a desperate bid for freedom, he dived from a third floor window… This breathtaking story is now a major film starring Sir Ben Kingsley and Jim Sturgess.
Click here to get this book for FREE
° ° ° ° ° ° ° ° ° ° ° ° ° °