Junebug isn't doing too well today. She has been sleeping a lot and she has bags under her eyes. I was getting pretty worried about her, so I asked hubby to take a look and tell me if I should go to the vet. He knew right away what was wrong with her. She was suffering from….. staying up all night. Hubby couldn't sleep, so he spent the whole time dragging her around the house, snuggling her, petting her fuzzy ears, and just keeping her up all night. Nope… hubby doesn't like her at all. I am going to have to have a talk with hubby about how babies need their rest.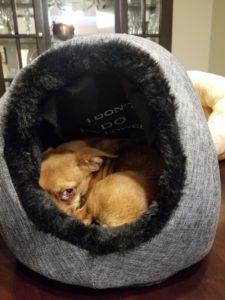 Death Of a Temptress (Dave Slater Mystery Novels Book 1)
by P.F. Ford

(334 Reviews)
Genre: Mystery | Mystery, Thriller & Suspense | Thrillers
FREE for a limited time
The Dave Slater Mystery series is a classic British blend of character, suspense and humour. In Death of A Temptress, a missing woman, police rivalry, a glamorous double life, corruption and top-level secrets all combine to create the perfect Sunday evening drama.
DS Dave Slater is suspended from duty. The injustice of taking the rap for a fast-track London detective's botched investigation hits him hard. To add insult to injury, his boss hands him a closed case for a discreet re-investigation. Is this a chance to redeem himself or a way of ensuring he fails?
Ruth Thornhill went missing six months ago. According to the evidence, she ran off with another man, so the Met closed the case. However, Ruth's sister Beverley refuses to give up. And Beverley has friends in high places.
Slater's enquiries soon find inconsistencies in the original investigation, and after a near-fatal encounter with a London bus, he realises the stakes are far higher than he imagined. Someone wants him to disappear.
An unlikely ally, in the form of fellow scapegoat DS Norman Norman, helps him uncover disturbing connections between the missing woman, a Chinese businessman, a glossy magazine, an online escort agency, a top London banker and senior officers from London's Serious Crime Unit.
The two uncover a mire of corruption, blackmail, deception and possibly the most cunning murder ever seen. The evidence stacks up against one particular suspect and Slater and Norman close in.
But as with most things in Slater's life, nothing is ever simple.
Click here to get this book for FREE
° ° ° ° ° ° ° ° ° ° ° ° ° °
Bad Magic: 10 Novels of Demons, Djinn, Witches, Warlocks, Vampires, and Gods Gone Rogue
by Multiple Authors

(49 Reviews)
Genre: Romance | Fantasy
FREE for a limited time
Bad magic can be so good…
These 10 full-length novels of paranormal romance and urban fantasy will keep you on the edge of your seat and up past the witching hour. Black magic, adventure, and romance… they're all here.
Something this good can't last forever… download this set before it's gone!
About the Books:
Chosen by Christine Pope
When a fatal fever nearly wipes out the entire world's population, the survivors of what became known as "the Dying" believe the worst is in the past…
Dead Rising by Debra Dunbar
Solaria Ainsworth was born a Templar, destined to take up the mantle of responsibility and duty as her family's Order had done for hundreds of years.
Except she refuses to take her Oath of Knighthood.
Hidden Blade by Pippa DaCosta
Kicked out of the underworld and cursed to walk this Earth for all eternity, Ace Dante is not the hero New York needs, but when Egyptian gods start killing, Ace is the city's only defense. ?
Wolves by C. Gockel
When Amy prays for help, Loki the Norse God of Mischief and Chaos isn't the savior she has in mind.?
Bitter Ashes by Sara C. Roethle
She's not their long lost fairy princess, she's their executioner. Legends of Norse Myth and Necromancy collide in this fast-paced Urban Fantasy with a dark romantic twist.
The Last Necromancer by C.J. Archer
For 5 years, Charlie has lived as a boy in the slums, but when she's arrested, her only means of escape lies with raising the dead. Now people are hunting her for her necromancy, but only one man succeeds in capturing her: a man known as Death, as compelling as he is frightening.
Nefertiti's Heart by A.W. Exley
1861. In a steam and mechanically powered London, feisty Cara Devon uses her dead father's secret notebook as a guide in her pursuit of powerful ancient artifacts.
Lost Wolf by Stacy Claflin
She's hiding a dark secret. It already killed her once.
Thunder Hunter by Rachel Medhurst
For Thor to Live, Thunder Hunter must die. For a thousand years, Thor's power has been inside Trygger. Can he finally defeat the Fallen Ones to give it back?
Sorceress Awakening by Lisa Blackwood
When Lillian finds herself facing off against vampires, help comes from an unlikely source — the stone gargoyle who has been sleeping in her garden. In a heartbeat, her ordinary life becomes far more complicated, and if her overprotective, shape-shifting guardian is to be believed, there's an evil demi-goddess just waiting for the chance to enslave them both.
Click here to get this book for FREE
° ° ° ° ° ° ° ° ° ° ° ° ° °
A Change of Plans, Safe Harbors #1
by Donna K. Weaver


(122 Reviews)
Genre: Literature & Fiction | Action & Adventure | Romance
FREE for a limited time
Lyn wants to move on. She just doesn't realize it will take pirates, shipwreck, and an intriguing surgeon to do it.
When Lyn sets off on her supposedly uncomplicated and unromantic cruise, she never dreams it will include pirates. All the 25-year-old Colorado high school teacher wants is to forget that her dead fiancé was a cheating scumbag. What she plans is a vacation diversion; what fate provides is Braedon, an intriguing surgeon. She finds herself drawn to him: his gentle humor, his love of music, and even his willingness to let her take him down during morning karate practices. Against the backdrop of the ship's make-believe world and its temporary friendships, her emotions come alive.
However, fear is an emotion, too. Unaware of the sensitive waters he navigates, Braedon moves to take their relationship beyond friendship–on the very anniversary Lyn came on the cruise to forget. But Lyn's painful memories are too powerful, and she runs off in a panic.
Things are bad enough when the pair finds themselves on one of the cruise's snorkeling excursions in American Samoa. However, paradise turns to piracy when their party is kidnapped. Lyn's fear of a fairytale turns grim. Now she must fight alongside the man she rejected, first for their freedom and then against storms, sharks, and shipwreck.
Click here to get this book for FREE
° ° ° ° ° ° ° ° ° ° ° ° ° °
A Captain in Israel
by Alex Chappell


(23 Reviews)
Genre: Religion & Spirituality | Religious & Inspirational Fiction | Romance
FREE for a limited time
Michal loves him, Tobiah yearns to fight for him, and Mara inadvertently witnesses an attempt against his life. When David, son of Jesse, enters Saul's service, it forever alters history and lives.
Tobiah ben Caleb didn't know what Samuel meant when he anointed David to be a "captain in Israel." He certainly didn't expect his cousin to become a king's harpist or slay a Philistine giant; but when Tobiah follows David to Gibeah, he gets more than he bargained for. First he loses his heart to a beautiful girl, next he nearly loses his life.
Mara bat Gideon has been Michal's companion and maidservant for as long as she can remember. And, for as long as she can remember, she has bowed to her cousin's ceaseless demands. Now the moody princess has charged Mara with the uncomfortable task of spying on David — an assignment which will lead to unexpected romance.
As Mara and Tobiah's feelings for each other deepen, treachery and intrigue threaten to tear them apart. Saul has arranged a deadly trap to destroy David and Tobiah, and Mara's father intends to give her as a concubine to Ish-bosheth, Saul's son.
Can faith in God keep Mara and Tobiah together? Or does God have other plans for them? One thing is certain – it will take His power to save their hearts and preserve their lives.
(Formerly published as REIGN OF KINGS)
Click here to get this book for FREE
° ° ° ° ° ° ° ° ° ° ° ° ° °
The Apple Picker's Daughter
by Anne Brooke


(18 Reviews)
Genre: Literature & Fiction | Family Life | Historical Fiction
FREE for a limited time
Born in the 1960s on a UK apple farm, Clare Rivers is a girl out of time, living in a family and a world that makes little sense to her. Determined to carve out her place somehow, and with her deep love of her father to see her through, Clare begins a unique journey to discover the reasons for her own existence. If she can. However, accompanied by the oddities of family, school and the strange lyrical life of the apples, can Clare really find a place within herself to call home?
This novel will appeal to lovers of rural life, recent history and a child's quirky but clear-sighted view of the adult world.
Click here to get this book for FREE
° ° ° ° ° ° ° ° ° ° ° ° ° °