I took a short video of my little pup Junebug, and I was showing it to my hubby while my pup was sleeping on my lap. As soon as she heard her name she perked up. This little princess couldn't take her eyes off the video. I played it again and again and she never grew tired of watching herself. What a funny little girl.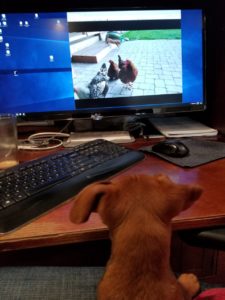 Dark Paradise
by Catherine Lee


(50 Reviews)
Genre: Mystery
FREE for a limited time
Reality television just got deadly.
When a contestant on hit reality show Transformation in Paradise turns up dead, Detectives Cooper and Quinn find themselves out of their comfort zone on a remote holiday island. Amid growing pressure from the mainland to solve the high-profile case, Cooper struggles with the island's lack of resources and the decision from up high that the show must go on.
With the million dollar winner-takes-all prize still up for grabs, the show's five remaining contestants all seemingly have something to hide. Did one of them commit murder? Was a crew member involved? Or does the island have secrets of its own?
Dark Paradise is a fast-paced novella, a bonus story in Catherine Lee's page-turning Dark Series. Join Cooper and Quinn as they take a break from the city and find out that island paradise isn't all it's cracked up to be.
Click here to get this book for FREE
° ° ° ° ° ° ° ° ° ° ° ° ° °
A Dog's Luck: A story of love, separation and longing (A Contemporary Literary Fiction Novel)
by Liora Barash Morgenstern

(75 Reviews)
Genre: Women's Fiction | Literary Fiction | Historical Fiction | Political | Contemporary Fiction | Family Life
FREE for a limited time
People, dogs, and what lies between them
Ellie, a young woman writing her philosophy dissertation, becomes disrupted by echoes from the past. She follows the voices replaying in her mind to an introspective examination of her childhood and adolescence within her extended family. This intimate inspection of relationships between family members-and the family's dogs-leads her to uncover three generations of the family secrets and the focal points of tension in the family's history.
A story of love, separation and longing
A Dog's Luck is a unique, moving and thought-provoking work of literary art that deals with existential issues in a heartfelt, high-tempo and dynamic style. It touches on love, separation and longing, in an expressive, multi-layered language that provokes the readers to reflect upon subtle nuances of their own inner worlds.
Click here to get this book for FREE
° ° ° ° ° ° ° ° ° ° ° ° ° °
The Devotee: Magic Academy
by Oksana Grinberga


(6 Reviews)
Genre: Fantasy | Romance | Teen & Young Adult
FREE for a limited time
"All I wanted to do was to deliver three letters to honor the wishes of the people who had raised me. But instead, I entered a world of magic that saw me fighting for my life."
Layne Vayris has lost the two most dearest people to her. Her mentor and her Uncle Niklas. Each have tasked her with delivering their last requests. Layne's mentor requires three letters to be delivered on specific dates and specific times. Whereas her Uncle Niklas has asked that she deliver an unusual book of his, to an unworthy previous student called Goter.
To complete their dying wishes she must leave her peaceful and tranquil village of Wolverdell to enter a bustling city of magic and depravity.
There she meets a young homeless boy called Remi, who guides her through the city. Their friendship spurs her on to find the first addressee of the three letters, a Master Sharrez. But Master Sharrez is aloof and spends his time in whore houses, making an audience with him near on impossible.
Layne realizes that the only way to fulfill her promise to her dead mentor is to join the Academy of Magic, where the warlock Sharrez teaches the Faculty of Dark Magic. Except this decision comes with its own demons and Layne finds herself setting off on a path she never envisaged. A path that leads her to discover her own dormant magic, which becomes all consuming and more powerful than anyone has ever seen before.
But with power comes enemies. And in trying to deliver her second letter, she finds that not all 'old' friends are friends, and things take a turn for the worst. Layne finds herself having to fight for her life with some unlikely friends to boot.
Will Layne be able to deliver the third letter in time? Will she pass on her Uncle's book to the unworthy Goter? Or will the power of magic end her before she's even begun?
Click here to get this book for FREE
° ° ° ° ° ° ° ° ° ° ° ° ° °
Slow Burn In The Wilderness (Alaska Adventure Romance Book 7)
by Renee Hart


(58 Reviews)
Genre: Action & Adventure | Romance | Teen & Young Adult
FREE for a limited time
Out of all the men in the camp, why is she drawn to him?
There isn't much that scares Josie Green. She can parachute into a forest fire and supervise a crew without missing a beat.
But she doesn't trust her own instincts when it comes to the new guy. She has to jump with him in order to see if he's got the stuff to join the hotshot team of firefighters.
Trevor has come to the Alaskan Bush to fight wildfires.
His job takes him to remote areas for long stretches of time. With no family in his life, Trevor is alone.
When he arrives at the new camp he doesn't know what to make of his new boss, a wisp of a woman with auburn hair. The other crew members warn him off, but he can't get her out of his mind.
Smokejumpers work in extreme conditions. They parachute from airplanes and land near intense wildfires in areas not accessible by road. Once they've landed, they must fight fires spread over hundreds of acres to protect life, property, and wildlife habitat.
Slow Burn In The Wilderness is the seventh book in the Alaska Adventure Romance series. If you love sweet romance stories set in Alaska then you'll love this series by Renee Hart.
Slow Burn In The Wilderness is a novella of about 100 pages. It is a standalone story with HEA and no cliffhanger. Several clean romance stories have been included in this e-book for your enjoyment.
Click here to get this book for FREE
° ° ° ° ° ° ° ° ° ° ° ° ° °
The Doll: Darkness Bites book 2
by Justin MacCormack, Oliver Davenport


(4 Reviews)
Genre: Horror | Short Stories
FREE for a limited time
"You want to hear about the play? 'The King in Yellow', it was called. Sure, I knew that it was bad news, I'd heard the rumours that it was cursed.The old man had approached me and offered me more money than I'd ever seen in my life to run the play for him. How could I refuse? I'd directed many plays before this one, so it should have been simple. Straightforward. A piece of cake. That was when the disasters started. That was when the chaos awoke. How was I to know the night would in blood, and fire, and madness, and that damnable yellow sign which haunts me to this day?"
In his breakthrough short story "Return to 'Return to Oz'", Justin MacCormack created a shocking and disturbing tale of raw psychological horror, which has been hailed as 'shocking and personal'!
This, the second anthology of his short stories, collects further tales of Genre-Bending Dark Fantasy and Horror, including the popular "Cthulhu Doesn't Dance" and many more!
Included here is the shocking paranormal crime thriller "Where the Dead Lay" – Detective Mendez, struggling with the ghost of her own fight with cancer, is determined to track down a brutal serial killer of children before he can butcher another innocent kid. But when she finds her steps are being followed from beyond the grave, only the darkness of her own inner terror awaits…
Also included is the disturbing nightmare tale "The Road to Kyoto" which was too terrifying for conventional magazine publication – a young monk in feudal era Japan undertakes a pilgrimage, but his aunt always warned him of monsters along the trail. When he stops for the night at an inn, he encounters a surreal descent into love, paranoia, and gut-wrenching fear that will leave him wishing that he had listened to his aunt's words of warning…
And more tales of dark fantasy and horror!
Click here to get this book for FREE
° ° ° ° ° ° ° ° ° ° ° ° ° °