As you could imagine I have my hands full with both the new puppy Junebug and my sick little guinea pig Henry. I am often caring for both at the same time, so they are getting to know each other pretty well. Henry is the closet thing to Junebug's size in this house, so he is her best chance at a friend. I think Henry is open to the idea, but Junebug has GOT to learn to mellow out a bit. I am happy to say that Henry is a bit better today than he has been the past few days. At least now he can get to his water and I don't have to give him a syringe of water every few hours. More time for puppy potty training. OH WHAT FUN!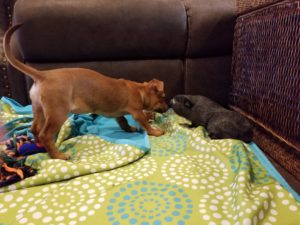 Escape to Osprey Cove: Book 1 of The Osprey Cove Lodge Series
by Luisa Marietta Gold


(33 Reviews)
Genre: Romance | Mystery
FREE for a limited time
What Doug finds in the secret compartment of his new red Corvette will forever change his life. It will also change Catherine's. Doug and Catherine come from two different worlds. Catherine's world is one of privilege and wealth. Doug grew up dirt poor and full of envy of others who had the things that he wanted but could not have. His goal was to one day have all the things he coveted. Their worlds collide when Catherine, VP of a large New York City marketing firm, hires Doug. As soon as Doug learns of Catherine's wealth, he sees Catherine as his ticket to all the things he covets. After a whirlwind courtship, they are married.
Poor boy meets rich girl should have resulted in "happily ever after" — not exactly. Doug quickly learns he also covets independence. Events begin to unfold in each of their lives. For Doug, it is his mysterious discovery in the secret compartment of the Corvette. For Catherine, it is a business meeting with Alex Droxell at the Osprey Cove Lodge. When Catherine enters the beautiful and serene lodge, it's as though she is entering another place and time. The lodge is an escape from the nightmare she is living back home. Follow the twists and turns of Book 1 of the Osprey Cove Lodge Series. Follow Doug and Catherine's story to see if there is a "happily ever after" and with whom.
EXCERPT:
It appeared to Catherine as though she had just approached Mr. Darcy's Pemberly in all its magnificence. Now she knew how Elizabeth felt at her first sighting of Pemberly. But unlike Elizabeth, Catherine thought, there would be no happy ending. This would not become her home one day, as Pemberly had become Elizabeth's, and live happily ever after. Catherine did not covet the house that lay before her. In fact, Catherine was wealthy enough to buy a home like it, if she so desired. What Catherine did long for was what Pemberly represented to all Jane Austen lovers — the culmination of a beautiful love affair. Catherine was not naive enough to expect her life to be storybook in nature. But she did not expect her life with Doug to disintegrate into shambles just two years after marrying him. She did not understand why it was happening. She did not know how to fix it.
Click here to get this book for FREE
° ° ° ° ° ° ° ° ° ° ° ° ° °
The Amish Doll: Amish Knitting Novel (Bonus Knitting Pattern Included)
by Karen Anna Vogel


(45 Reviews)
Genre: Religious & Inspirational Fiction | Romance | Religion & Spirituality
FREE for a limited time
Raven Meadows was raised on the Allegheny Indian Reservation in New York but placed in foster care after the death of her grandparents. Moving from one foster home to another, she's had two constants in life: knitting and her ragdoll. Now at 24, she works as a social worker in a foster home for boys. To her surprise, Amish families from Cherry Creek, NY apply to be foster parents. She quickly bonds with one Amish woman, Susanna Yoder, a knitter waiting for a kidney transplant. Susanna shows Raven her prayer shawl, and seeing what comfort it brings, Raven eagerly knits prayer shawls and eventually helps start a knitting circle. Over time, Raven discovers her ragdoll is really an Amish doll that unravels the mystery of her birth. This revelation leads her to a new found faith, forgiveness, and an Amish love.
Click here to get this book for FREE
° ° ° ° ° ° ° ° ° ° ° ° ° °
The Knights (Sons of Camelot Book 1)
by Kim Dragoner


(27 Reviews)
Genre: Fantasy | Historical Fiction
FREE for a limited time
HISTORY BEGETS LEGENDS.
SWORDS VERSUS SORCERY.
MORTALS CROSS PATHS WITH FAERIE.
In the "Sons of Camelot" series, the newly formed Sons of the Round Table take up the sword in the name of King Arthur. Eight young men must deal with a growing menace in the north. A high adventure of love, loss, treachery, and redemption balances the mortal world with the faerie world. There will be dire consequences when the two worlds collide.
The Knights begins within the mists of Avalon as Rhys, a page for Morgana le Fae, is chosen to compete for the honor of becoming a Son of the Round Table. He's been learning the sword, the spear, and the shield – and seeks to use them for a higher purpose, especially as Mordred, the son of King Arthur, gathers his own forces with a plan to usurp his father's throne.
As Rhys bravely obeys King Arthur's call to arms, he must leave his beloved Naida behind – a faerie who warns that supernatural forces are crossing into the Earth realm. Indeed, a magical kingdom from just beyond the veil has taken a great interest in the fate of mankind.
And as noble knights wage war against a powerful new enemy, Rhys finds himself torn between his love for a beautiful immortal and his duty to his king.
THE KNIGHTS is the first book in the "Sons of Camelot" series, an epic adventure of knights, faeries, dark magic, and courage beyond all reason.
Click here to get this book for FREE
° ° ° ° ° ° ° ° ° ° ° ° ° °
The Mural: A Novel
by Jeffry R. Halverson

(24 Reviews)
Genre: Literary Fiction | Contemporary Fiction
FREE for a limited time
A routine story sends one reporter on the search of a lifetime in Jeffry R. Halverson's fantastical new novel, The Mural. Tyler Anderson, a talented young reporter for The Valley Observer in Phoenix, looks forward to escaping the daily grind when he is sent to Ketchum, Arizona, for an exclusive scoop. A mysterious mural, having appeared inexplicably one morning on the side of a local warehouse, is capturing the town's imagination — and heart. With crowds rolling in to get a glimpse, Anderson's mission becomes clear: find the artist responsible for this one-of-a-kind work of art. But time is running out. Tensions in town are surfacing. The warehouse owner threatens to whitewash the mural. In a desperate search for the remarkable artist, Anderson finds more than he anticipated in the small town. The eclectic townspeople, like local restaurateur Abdullah Park, have their own mysteries. And Anderson soon finds their lives intersecting with his own. Finally, as the hours tick away, Anderson makes a profound discovery that lies far beyond his imagination.
Click here to get this book for FREE
° ° ° ° ° ° ° ° ° ° ° ° ° °
Plantains and the 7 Plagues: A Memoir: Half-Cuban, Half-Dominican and Full Life
by Paz Ellis


(12 Reviews)
Genre: Parenting & Relationships | Biographies & Memoirs
FREE for a limited time
Author Paz Ellis takes readers on a cross-cultural and trans-generational journey through her childhood in New Jersey to adulthood with Plantains and the 7 Plagues, A Memoir: Half-Dominican, Half-Cuban and Full Life.
Paz insightfully describes, the complexities and contradictions of growing up in the United States to a Dominican mother and a Cuban father. From her mother's obsessive cleaning rituals to her father's remarkable knack for invention, this book beautifully explains what living a hyphenated-life means for so many Hispanics. She writes about what it means to be American, and Cuban, and Dominican, and having to be all of those things and only one of them… all at the same time.
Following the passing of her mother, the author finds herself on a search for meaning through not only her past, but also her mother's. This book is about life, loss, memory, culture, and family, the glue that determines who your family actually is- love. Written with a healthy dose of wit and an abundance of sincerity, Plantains and the 7 Plagues is honest, painfully relatable, and deeply heartfelt.
Click here to get this book for FREE
° ° ° ° ° ° ° ° ° ° ° ° ° °