I would love to show you all more pictures of Junebug, but taking pictures of puppies is ridiculously hard. The picture below is of Junebug and my partner in crime's pup Jerry. This is the best picture out of the two hundred I took. I would have liked at least one good picture, but they were determined not to cooperate. I guess they had other things on their mind, like stealing toys from each other. They both came from the same rescue. I wonder if they remember each other.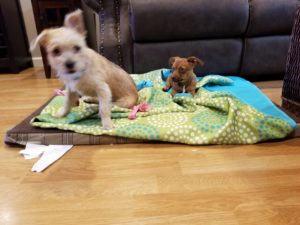 The Fatal Heir (A Gillian Jones Mystery Book 1)
by Lois Lewandowski


(3 Reviews)
Genre: Mystery | Humor & Entertainment | Women's Fiction
FREE for a limited time
Gillian Jones is a thirty-three-year-old probation officer. A few years previous, she survived a car accident that shattered her ankle and her first marriage. Now she's remarried and walking again and life would be perfect — if only she could get pregnant.
Fortunately, Gillian's mother-in-law and one of the Jackson County commissioners from Bend Brook, Nebraska, hatch a plan that will enable Gillian and her husband Clint to afford the next step in fertility treatment: they ask her to become an investigator for the county. Her first assignment is to find the biological parents of the commissioner's adopted daughter, Caroline. With only one concrete fact to go on — Caroline was left at a Colorado monastery in 1967 — Gillian heads for Aspen. Unfortunately, no one at the monastery remembers any such event — or so they say. When one monk goes missing and a woman who's sleeping in the bed reserved for Gillian is murdered, Gillian has second thoughts. She can't turn back, though, since most of Bend Brook has taken bets on whether she'll be able to solve the case.
As she uncovers past events that lead to the discovery of Caroline's true identity, Gillian realizes that sometimes the perfect family might be the one you already have…
Click here to get this book for FREE
° ° ° ° ° ° ° ° ° ° ° ° ° °
Girl from the Stars Book 1- Daybreak
by Cheree Alsop


(48 Reviews)
Genre: Science Fiction | Action & Adventure
FREE for a limited time
Liora Day, half-human, half mess-with-her-and-you'll-die Damaclan, had been thrown onto a rough path at a very early age. But when she is broken out of a cage by Devren, the young captain of the SS Kratos, she is shown that perhaps humanity does have a heart. The Kratos is set on a mission to rescue fallen surveyors from the Revolutionaries, and Liora is given the choice to follow her Damaclan instincts, or trust Devren's dark eyes and captivating smile that promise an adventure unlike any she has ever experienced.
Click here to get this book for FREE
° ° ° ° ° ° ° ° ° ° ° ° ° °
Simple Lessons
by Penny Harris Smith


(2 Reviews)
Genre: African American | Family Life | Religious & Inspirational Fiction | United States
FREE for a limited time
This novel explores relationship struggles, career challenges, spiritual renewal and social responsibility. It is packed with life lessons spun into a captivating story that the reader will remember long after the final page.
Dale and Sharon McKinney's marriage has weathered the storm. They are more committed than ever to each other and their faith. Faced with the challenge of a major life change, Sharon meets Ruben Daniels and his daughters at a park. Both suspect their timing was not a coincident. Dale and Sharon reach out to Ruben and his wife, Karly, as they face a contentious divorce. While trying to help Karly see the light of truth, Sharon's marriage is threatened when Dale becomes ensnared in a corporate scandal involving a young, ambitious executive trainee who is running from her past. Dale, Sharon, Ruben and Karly encounter a myriad of life lessons dealing with marriage, friendship, success, spirituality, love and betrayal.
Click here to get this book for FREE
° ° ° ° ° ° ° ° ° ° ° ° ° °
Another Fine Day For Bullets: The Law of the West: A Western Lawman Adventure (The Country Western Cowboy Series Book 3)
by Michael Haden, Robert Hanlon
Genre: Westerns | Romance
FREE for a limited time
The latest hard-hitting Western adventure from bestselling author Michael Haden brings you murder, deceit, treachery and a lot of dead criminals…
As the Civil War grinds towards its bloody climax, a Union gold shipment is highjacked by a team of renegade rebels, led by a murderous butcher. Frank Bates is the only survivor left alive. Captured and tortured, he must escape the clutches of the South and recover the gold shipment. With traitors at every turn and with the help of an unlikely friend, he escapes his prison only to find that the root of the deception runs far deeper than he alone can deal with. Will his enemies become his friends for a final showdown with his brutal foe, or will Bates become just another victim of a murderous, rampaging war?
Filled with large helpings of action, suspense and drama, "Another Fine Day For Bullets" delivers one helluva punch and takes you on an adventure that will leave you rooting, shooting and praying for more.
Click here to get this book for FREE
° ° ° ° ° ° ° ° ° ° ° ° ° °
One-Pot Cookbook
by Vesela Tabakova, The Healthy Food Guide


(30 Reviews)
Genre: Cookbooks, Food & Wine | Nonfiction
FREE for a limited time
Top 70+ No-Stress One-Pot Dinners – Spend More Time Enjoying Your Meal And Less Time Cleaning Up
From the author of several bestselling cookbooks, Vesela Tabakova, comes a great new collection of delicious, easy to make family recipes. This time she offers us 70+ comforting and enjoyable one-pot dishes full of your favorite vegetables, meats and legumes, that are simple and easy to cook whether you need a quick weeknight supper or a delicious weekend dinner.
One-Pot Cookbook: Family-Friendly Everyday Soup, Casserole, Slow Cooker and Skillet Recipes for Busy People on a Budget is an invaluable and delicious collection of healthy one-pot recipes that will please everyone at the table and become all time favorites.
If you're looking for easy delicious everyday recipes to help satisfy your family and your budget, this cookbook is for you.
Click here to get this book for FREE
° ° ° ° ° ° ° ° ° ° ° ° ° °