I am getting a real kick out of Junebug's interactions with my kitty Sinny. She is a lot more confident when he is sleeping, but knows that he is never really asleep, so she is always cautious. Sinny has been super patience with her, and knows Junebug will run away when he meows. He must look like a giant to her.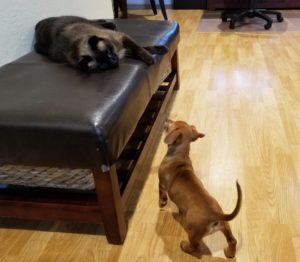 Ting-A-Ling (Dev Haskell – Private Investigator, Book 7)
by Mike Faricy


(181 Reviews)
Genre: Mystery | Thrillers
FREE for a limited time
Ting-A-Ling is the Seventh mystery in the highly entertaining Dev Haskell Private Investigator mystery series.
In Hitchcockian fashion, the telephone rings at two in the morning. PI Dev Haskell answers, half-asleep, to a giggling woman named Danielle. It seems she's found his phone number on a bathroom stall. She's called Dev "for a good time," but what she really wants is for him to deliver a simple message to her former business partner.
It's all fun and games (not to mention funny) til someone goes missing. Next thing he knows, our fair but bumbling hero can't find his client or her business partner, which turns out to be the least of his problems when he finds himself on the hook for murder, and suddenly haunted by a multitude of childhood secrets.
In a bizarre but compelling mixture of suspense, family drama, and offbeat comedy, Dev once again messily balances both sides of the law in a wacky adventure that will keep you on your toes while laughing out loud.
Click here to get this book for FREE
° ° ° ° ° ° ° ° ° ° ° ° ° °
Song Breaker
by Annette Lyon


(16 Reviews)
Genre: Mythology & Folk Tales | Romance | Fantasy
FREE for a limited time
Based on a Nordic myth in the Finnish Kalevala, which inspired Tolkien's The Lord of the Rings and Gandalf himself, comes Song Breaker from a USA Today bestselling author.
To Aino, the idea of spending her life warming the bed of a wrinkled old man — especially when it means life without her secretly betrothed love — is horrifying. But that is the fate that awaits her because her brother, Jouko, has dueled the famed wizard Vane — and lost.
At the last moment, the old man agreed to spare Jouko's life in exchange for Aino's hand, and the contract is sealed with magic that cannot be undone by anyone but Vane himself.
Aino swears she'll never marry against her will, yet with only two days until the wizard comes for her, she must find a way to break the deep magic of the contract, or she'll be Vane's prisoner for life. Her efforts might free her from the old wizard, but her escape could mean merely exchanging one kind of prison for another.
Click here to get this book for FREE
° ° ° ° ° ° ° ° ° ° ° ° ° °
Make-Believe Wedding (The Great Wedding Giveaway Series Book 9)
by Sarah Mayberry

(245 Reviews)
Genre: Contemporary Fiction | Romance
FREE for a limited time
Everyone in Marietta, Montana, is in love and getting married – at least that's the way it feels to Andie Bennett the night of the Valentine's Ball. As she watches the man she's loved from afar for half her life dance with another woman, Andie allows herself a moment of sheer fantasy as she fills out a stray entry form for the Great Wedding Giveaway. Andie channels years of fantasy and yearning for Heath McGregor onto the page, but she never intends to actually enter the Giveaway. Only a crazy woman would do that. But fate has other ideas…
When Heath learns he and Andie are last minute finalists in the Great Wedding Giveaway, he's completely baffled. How on earth could anyone make such a ridiculous mistake? When it becomes clear that Andie will be humiliated if the slip-up becomes public, Heath does what any good friend would – he suggests they pretend the engagement is real until the Giveaway is over and then quietly "break up" when no one is paying any attention. It's the perfect solution, except Heath very quickly realises that pretending Andie is his is no hardship at all. In fact, it may just be the best thing that's ever happened to him…
Click here to get this book for FREE
° ° ° ° ° ° ° ° ° ° ° ° ° °
The Other Cisco Kid
by S J Bounds


(1 Review)
Genre: Action & Adventure | Westerns
FREE for a limited time
The hard life of a hero…
Billy Baxter longed to be like the heroes he read about in his dime-novels, and set out looking for an adventure to call his own.
It wasn't long before he met the notorious Cisco Kid, became marshal of Prospect and fell in love with Val Neilson to boot!
But things were not looking so easy for Billy when he had to face down a cattle baron and work out who robbed the local bank.
Not to mention fending off the endless string of bounty hunters, intent on trying to collect the ever-increasing price on Cisco's head.
He soon realised that there was a lot more to being marshal than he first thought. Is it a case of too much too soon for young Billy?
To make matters worse, Carl Mueller was lurking in the shadows, biding his time.
Mueller was holding onto a deep grudge of his own and was hell set on taking his revenge. But his plan involves using Val as bait and it's not long before she finds herself in mortal danger.
Baxter must grow up fast. He needs to work out Mueller's plan and act quickly to save Val and be with the woman he loves.
Will he get to her on time and become the hero he aspires to be?
Or will his story end in tears… ?
Click here to get this book for FREE
° ° ° ° ° ° ° ° ° ° ° ° ° °
Christmas Crochet: Done in a Day! 7 Quick & Easy Projects to Bring Out the Christmas Spirit
by Tara Cousins


(8 Reviews)
Genre: Crafts, Hobbies & Home
FREE for a limited time
This collection of 7 projects was inspired by the fun and whimsy of the Christmas holiday. Each item is small enough to complete in a single evening or a long car ride, and great for using up those extra yarn scraps! The collection ranges from beginner to easy intermediate level and the step-by-step photos will help you along the way.
Patterns Included:
Wreath Mini Gift Bag
Candy Cane Decoration
Snowflakes
JOY Wall Art
Winter Icicles Doll Afghan
Decorative Dog Collar
Tweed Stitch Gift Card Holder
Click here to get this book for FREE
° ° ° ° ° ° ° ° ° ° ° ° ° °