I am really amazed just how perfect little Junebug is. Its a bit unsettling. I keep waiting for something bad to pop up, like she hates kids with blond hair or likes to hide her poop under car seats. Maybe the site and smell of cake makes her turn into a  green monster and she goes straight for the throat. So far none of that. She is perfect. She still needs to be house-broken, but even then she only poops and pees on a towel, and those are so small it's barely noticeable. She still hasn't even barked. Can she bark? She plays when she is outside and sleeps when she is in her crate. She sleeps through the night and doesn't make a sound, even when I get up. I get up at 3am, so really she just isn't crazy like me. All this time I have avoided a puppy for all the typical puppy traits and she has none of them, except for being a complete love. Maybe this is a trick to get me to adopt her sisters. That's it. It's a trick. I'm on to you Junebug!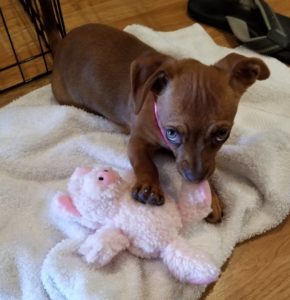 Dirty Martini – A Thriller (Jacqueline "Jack" Daniels Mysteries Book 4)
by J.A. Konrath, Jack Kilborn

(803 Reviews)
Genre: Mystery | Women's Fiction
FREE for a limited time
In Whiskey Sour, Chicago police Lieutenant Jacqueline "Jack" Daniels hunted down a killer dubbed "The Gingerbread Man."
In Bloody Mary, she busted a psychopath with a penchant for dismemberment.
In Rusty Nail, it was a serial killer with a doozy of a family tree.
And now, in Dirty Martini, Jack faces her toughest adversary yet: a sicko who's poisoning the city's food supply. But that's just the start of what he has planned, because he's aiming to kill fifty thousand people in the single biggest act of terrorism the US has ever seen. Can she stop him — and decide whether to accept boyfriend Latham's surprise proposal — without destroying both her reputation and her sanity?
Join Jack, her partner Herb, and her nemesis Harry McGlade, for her fourth, and greatest, case so far.
Click here to get this book for FREE
° ° ° ° ° ° ° ° ° ° ° ° ° °
Into the Darkness (Crimson Worlds Refugees Book 1)
by Jay Allan


(205 Reviews)
Genre: Science Fiction
FREE for a limited time
Book One of Jay Allan's Refugees Series
Terrence Compton is one of Earth's greatest admirals, a warrior almost without equal. Alongside his oldest friend and brilliant colleague, Augustus Garret, he and his forces saved Earth from invasion by the robotic legions of the First Imperium's insane computer Regent.
There is just one problem. The First Imperium was held back by the disruption of the sole warp gate connecting the two domains… and Compton and 300 of his ships are trapped on the wrong side, surrounded by the Regent's vast fleets and cut off from Earth.
Pursued by their deadly enemy, Compton and his fleet must flee into the darkness of unexplored space, seeking safety… and ultimately a new home. Their journey will take them deep into the heart of the First Imperium, to the silent, windswept worlds where the ancient race that built the Regent once dwelled… and uncover the lost secrets of its disappearance 500,000 years ago.
Click here to get this book for FREE
° ° ° ° ° ° ° ° ° ° ° ° ° °
The Royal Treatment: A Crown Jewels Romantic Comedy, Book 1
by Melanie Summers, MJ Summers


(108 Reviews)
Genre: Women's Fiction | Contemporary Fiction | Romance
FREE for a limited time
For fans of Bridget Jones and The Princess Diaries comes a laugh-out-loud, feel-good comedy with a sizzling side of romance…
Ultra-private, ridiculously handsome Crown Prince Arthur has always gotten by on his charm. But that won't be enough now that the Royal Family is about to be ousted from power once and for all. When Prince Arthur has to rely on the one woman in the kingdom who hates him most, he must learn that earning the love of a nation means first risking his heart.
Twenty-eight-year-old Tessa Sharpe, a.k.a. The Royal Watchdog, hates everything about Prince Arthur. As far as she's concerned, he's an arrogant, lazy leech on the kingdom of Avonia. When he shocks the nation by giving her the keys to the castle, Tessa has no choice but to accept and move in for two months. It's lust at first sight, but there's no way she can give in to her feelings — not if she wants to have a career or a shred of pride left when her time at the palace ends…
Can two natural enemies find their forever in each other's arms, or will they ruin each other to save themselves?
Click here to get this book for FREE
° ° ° ° ° ° ° ° ° ° ° ° ° °
Jenny (The Thorntons Book 2)
by Kerbit Little


(7 Reviews)
Genre: Action & Adventure | Westerns
FREE for a limited time
Jim sets off with his friend Rute to meet Jenny, a young woman Rute says is special. Rute breaks a leg in a fall and heads for Frozen Nevada to heal up with friends and finds himself pursued by three widows intent on matrimony. Jim finds Jenny and frees her from a mayor who wants to marry her. On the way Jim kills a man in self defense after stopping him from abusing a waitress. As Jim and Jenny head for Frozen he must fight off assassins sent by the man's mother and Jim and Jenny find themselves falling in love along the way.
Jenny is a story of love and friendship and is rich in characters who will shock you, make you laugh and cry and dread to see the story end. Read the first page if you want to meet one.
Click here to get this book for FREE
° ° ° ° ° ° ° ° ° ° ° ° ° °
PICNIC IN IRAQ
by PHILIP CAINE


(3 Reviews)
Genre: Action & Adventure
FREE for a limited time
A close-knit group of friends find an Iraqi map. They are joined by a glamorous war correspondent and travel the length of Iraq, following the original Knights Templar route; in search of a treasure of unimaginable wealth. Encounters with the American security forces, Iraqi bandits and Islamic State, do not deter them from their quest. From the desperate city of Baghdad, they follow the Tigris River south, through the searing heat of the Iraqi desert and into Kuwait. Their journey culminates on the fabulously opulent Orel Island in the Arabian Gulf.
Click here to get this book for FREE
° ° ° ° ° ° ° ° ° ° ° ° ° °