I am morally against green tea. I was fine with it until I tasted green tea ice cream. My partner in crime loves that stuff. She drinks it every morning.  I'm not really sure why because coffee is available. Okay. I will be honest with you. I am still thinking of that puppy. Look at that face! What am I to do!!?? It's the eyes really.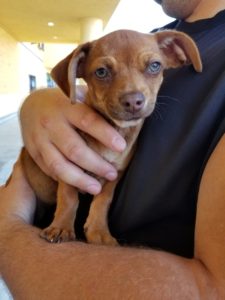 Conquerors of Nimeya: Book One
by Kelvin S. Douglas, Ronnell D. Porter


(6 Reviews)
Genre: Science Fiction | Fantasy | Action & Adventure
FREE for a limited time
Explore a historical speculative novel that reminisces the world at the inception of the twentieth century.
Decades following a bloody civil war, the mighty Kurrith Empire reigns as the world's leading superpower. This doesn't last forever, for the balance of power is about to make a dramatic shift. One that'll reshape the world, forever.
Allured by the lucrative trade of smuggling, Duncan Shay, a humble man, tries to maintain his humility in a deceitful profession. But when he and his loyal crewmen fly too close to the sun… they are dragged into a terrifying world that threatens to crush every bit of their will…
All his life, Fahl has known nothing but bloodshed and violence. When a very rare opportunity to save his people from extinction dangles its weight fingertips from his clutches, he'll do anything–anything to obtain it…
She's the child of an undesired race. An outcast born in a foreign land, but she is strong, or at least she believes so. Nevertheless, when a cruel world throws its weight on her shoulders, she is left with two options. Endure, or die…
The Kurrith Empire is faced with similar choices. Thought to be invincible, the Kurrith Empire enjoys decades of uninterrupted power.
"… Until the war, changed everything… "
When the first blows of war scar the Kurrith Empire's façade, the world holds its breath. The stage is primed for a world-war, and Duncan Shay, our humble smuggler, finds himself at its inception.
Driven to set a wrong right, he throws himself at the conflict.
Fahl, our hardened warrior–christened by blood and conflict–will find his loyalties and beliefs strained.
And our outcast, she will discover that a world at war is the greatest equalizer of them all.
On a remote and hostile land teeming with exotic life forms and civilizations, far from familiar shores, the faith of an empire and millions of peoples' lives will be decided, forever.
Click here to get this book for FREE
° ° ° ° ° ° ° ° ° ° ° ° ° °
Holy Moly (Blanco County Mysteries Book 6)
by Ben Rehder


(114 Reviews)
Genre: Mystery
FREE for a limited time
Holy Moly: When televangelist Peter Boothe decides to build a megachurch on the banks of the Pedernales River, he thinks his biggest problem will be a few unhappy neighbors. However, when backhoe operator Hollis Farley unearths a rare fossil on the construction site—a discovery that could lead to plenty of embarrassing Darwinian publicity—the cover-up begins. Soon, Farley is dead, shot in the back with an arrow, and Game Warden John Marlin is asked to help with the case. What he and the local deputies find is a suspect list of biblical proportions: Could it have been the bitter geology professor? The private fossil collector with a somewhat unusual fetish? The minister's wife who takes the Commandments rather lightly? Or the geriatric environmentalist with a mean right hook? Nothing is sacred in Rehder's most laughable satire yet, a twisted tale of greed, corruption, infidelity, and, yes, paleontology.
Click here to get this book for FREE
° ° ° ° ° ° ° ° ° ° ° ° ° °
Non-Russian Roulette
by Leon Agulansky


(9 Reviews)
Genre: Action & Adventure | Mystery
FREE for a limited time
Non-Russian Roulette is an action-adventure novel that has overtures of a psychological thriller. The focus is on what happens to Dr. Alex Rubinstein, a Russian Jew who emigrates to Israel and through an accident while serving as a reserve officer in the Israeli navy, becomes part of a web of intrigue, violence, and mob/intelligence agency competition that spans three continents.
Click here to get this book for FREE
° ° ° ° ° ° ° ° ° ° ° ° ° °
Dear Viking: Christian Historical Romance Novel
by Lori Soard


(13 Reviews)
Genre: Romance | Historical Fiction
FREE for a limited time
Rok Erikson comes from a long line of Viking warriors. The tradition of his upbringing, his new Christian faith and the code of honor that says he must protect his family at all costs wage war within him. He and his brothers go on a mission to kill Jarl Van of Colby before the man can make another attempt on their father's life. The code of honor insists that they either kill or be killed, however, there are dark forces at work of which Rok is unaware. Leani is the daughter of the jarl Rok believes is making attempts on his father's life. When the eldest brother reaches her village ahead of Rök and the rest of the party, he kills her father and defiles her frail sister. Enraged, and fearing for her own life, Leani drives a silver dagger into his neck. Leani is captured by the vile Eriksons and forced to leave behind her broken sister as they take her to face a trial for killing the Viking who murdered her father. Leani's life hangs in the balance as she struggles with her guilt over taking the life of another and tries to find forgiveness where none should exist. Her faith will be tested to the limits as she fights a growing attraction to her enemy, tries to hide the truth about her identity, uncovers a treachery that runs deep within the Erikson clan, and sees how God can come to your rescue even when all hope seems lost…
Click here to get this book for FREE
° ° ° ° ° ° ° ° ° ° ° ° ° °
Britannia – Going But Not Gone: Can The Legendary Great British Spirit Be Revived?
by Anne Patrick


(5 Reviews)
Genre: History | Biographies & Memoirs
FREE for a limited time
Many people in Britain have not thought that much about Britishness until now just when we fear it is being snatched away. When our liberty is at stake do we just lie down and roll over?
Bombarded by the media of what we should and shouldn't do, are we forgetting what is really important in life? We all want so much, yet need so little.
The British people have always had a unique character but are we becoming a risk averse nation afraid of our own shadow, or when the going gets tough can the great legendary British spirit be revived and our national pride restored?
A heartfelt and thought provoking account of what is disappearing from the British way of life.
Click here to get this book for FREE
° ° ° ° ° ° ° ° ° ° ° ° ° °