Yesterday I was able to harvest a pretty good sized little basket of cherry tomatoes, a delicious bunch of carrots, and as usual about half a dozen fresh eggs. I would like to say I enjoyed some of those tomatoes, but my baby bassets sat down right next to them and ate them all. IN ONE SITTING! I have certainly gotten used to the fresh food, and with Fall right around the corner I am not sure I am so willing to give up eating my homegrown delights. I am thinking winter crops. I have quite a few red onion and garlic plants still growing, but I think I planted them way too late and will not get anything from them this year, but I will try those again. I watched an hour long YouTube video on growing potatoes, and I think that will be my next experiment. Since hubby built such nice raised garden beds I really want to get serious about growing my own veggies.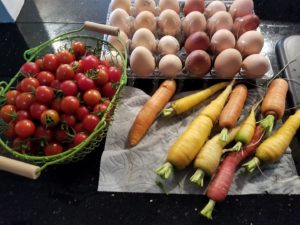 The Borderlands (Book One): Journey
by Aderyn Wood

(27 Reviews)
Genre: Fantasy | Teen & Young Adult | Coming of Age
FREE for a limited time
'It is urgent for you to reach the Borderlands. There, you will learn everything you need to know.'
Dale has never felt a sense of belonging. She despises the bullies and snobs at school, and her family are difficult to like, let alone love. Rhys, a new boy at school seems to take an interest in her. But can she trust him? When the only friend she has ever had, Old Man Gareth, is murdered before her eyes, she is set on a frantic journey and a lonely adventure; the Borderlands beckon. But what are the Borderlands? Will she make it to them? And if she gets there, will she belong?
'The Borderlands: Journey' is a magical fantasy adventure that fantasy fiction fans, particularly older teens and the young at heart, will enjoy. It is the first book in the Contemporary Fantasy series 'The Borderlands'.
Click here to get this book for FREE
° ° ° ° ° ° ° ° ° ° ° ° ° °
Healed by Love: Nate Braden (Love in Bloom: The Bradens at Peaceful Harbor Book 1)
by Melissa Foster


(173 Reviews)
Genre: Women's Fiction | Romance | Contemporary Fiction
FREE for a limited time
HEALED BY LOVE is BOOK 1 in The Bradens at Peaceful Harbor, the newest addition to the award-winning Braden series and the Love in Bloom big family romance collection (Voted BEST BOOK SERIES by Supportive Business Moms, UK).
In HEALED BY LOVE… Nate Braden has loved his best friend's younger sister Jewel for as long as he can remember, but between their age difference and his respect for Rick, he's always kept his feelings at bay. Now he's back in Peaceful Harbor, and Jewel is no longer sixteen years old–but there's an even bigger obstacle standing in his way. Nate and Rick joined the military together eight years earlier. Nate came home a hero, but Rick didn't make it out alive.
Click here to get this book for FREE
° ° ° ° ° ° ° ° ° ° ° ° ° °
Murder on the SS Rosa: a cozy historical mystery – a novella (A Ginger Gold Mystery Book 1)
by Lee Strauss


(112 Reviews)
Genre: Mystery
FREE for a limited time
Praise for Murder on the SS Rosa: "New to me and loved it!"
"One of the most enjoyable mysteries to come out in months!!"
"A fantastic period cozy mystery made to keep you guessing!"
It's 1923 and young war widow fashionista Ginger Gold makes a cross-Atlantic journey with her companion Haley Higgins to London England to settle her father's estate. When the ship's captain is found dead, Ginger is only too happy to lend her assistance to the handsome Chief Inspector Basil Reed.
The SS Rosa delivers a convincing array of suspects–the wife, the mistress, a jealous crew mate. To Ginger's dismay, her name has been added to the list! With a little help from Ginger's dog Boss, Ginger and Haley navigate the clues (those wartime operative skills come in handy.) They must solve the case and clear Ginger's name before they dock–and oh, whatever shall she wear!
Click here to get this book for FREE
° ° ° ° ° ° ° ° ° ° ° ° ° °
I Hate That You Bloody Left Me: A Senior Citizen Comedy
by Heather Hill

(117 Reviews)
Genre: Humor & Entertainment | Women's Fiction | Contemporary Fiction
FREE for a limited time
'Totally Bonkers… and Totally Brilliant!'
From the Author of Amazon International Best-Seller, 'The New Mrs D'.
'Dare to never lose the silly side of yourself.'
When three silver-surfer widows take a road trip to a bewitching island in the Southern Hebrides, kidnapping a world-renowned psychic medium was the last thing on their minds. And the first thing they did…
After three bereaved, elderly ladies meet in an online forum, it soon becomes clear they each have their own, quite specific, senior citizen plan. The first is desperate for a message from her husband, but his sudden death has made him unavailable. The second just wants a hole in the ground to swallow her up, and so it duly does. The third is in search of her true identity, and has all of life's essentials in her over-sized handbag: lipstick, phone, spare pair of knickers, mother…
As a trio of desolate women transitions into a trio of friends, they embark on a mission to track a recently retired, world famous pyschic medium, which takes them on a series of zany and hilarious adventures, where shocking secrets are revealed, relationships are tested, and lobsters are liberated. The women want to know, and they want to know now: Is there life BEFORE death?
Light-hearted, funny and moving, 'I Hate That You Bloody Left Me' is a journey of friendship, whisky-rustling and accidental kidnapping, set on the spectacular Scottish isles of Jura and Islay.
It's a pint full of belly laughs, with a whisky chaser.
Click here to get this book for FREE
° ° ° ° ° ° ° ° ° ° ° ° ° °
Organic Lip Balms: Natural Homemade Lip Balm Recipes -Simple And Easy Guide To Making Your Own Lip Balm
by Katrina Payne
Genre: Crafts, Hobbies & Home | Health, Fitness & Dieting
FREE for a limited time
Organic Lip Balms (FREE BONUS INCLUDED)
Natural Homemade Lip Balm Recipes -Simple And Easy Guide To Making Your Own Lip Balm
Although we all love this winter weather, the one thing no one likes about it is the fact that the air is as dry as the dessert. Your hand, cheeks, forehead, and lips are all exposed to these terrible extremes, and as a result, you are left with dry, cracked skin.
Your only line of defense is going to be to put a shield over your lips, protecting yourself from the harsh winter wind.
But where are you going to get this shield? How you are going to get what you are after?
That's where this book comes in. In it, you are going to learn exactly what you need to do to make your own lip balm. Using organic, all natural ingredients you are going to learn exactly what you need to do to make your own lip balms.
Step into a world of wonderful balms, and enjoy all the rich benefits that comes with it!
Click here to get this book for FREE
° ° ° ° ° ° ° ° ° ° ° ° ° °