My neighbor across the street is awesome. He always comes by with wonderful veggies from his garden or exotic mushrooms from his wife work. It is always a wonderful surprise. Last night he came by and offered me a wild adventure. He offered me this beautiful fruit/vegetable. I thanked him and asked what it is. He said he had no clue. Oh… He assured me it grew in his garden and said it's like a wonderful adventure, then he ran off laughing. Now, all the other times the veggies have been delicious and the mushrooms to die for, so I guess it's safe right? Anyone know what this cantaloupe sized treat is?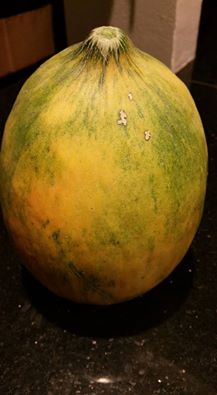 You Are Dead. (Sign Here Please)
Andrew Stanek


(72 Reviews)
Genre: Fantasy | Humor & Satire
FREE for a limited time
You Are Dead. (Sign Here Please) is a madcap comedy of truly ludicrous proportions. After Nathan Haynes dies, he discovers that the afterlife is run by straight-laced bureaucrats, but when he refuses to sign his 21B he is punted back to life in his insane home city of Dead Donkey. He can't rest easy, though – the bureaucrats are out to get him and they will put his papers in order, no matter the cost. Will our hero die (again)? Will the bureaucrats trick him into filling the proper forms in? Will Nathan ever get to do his laundry? Find out in You Are Dead. (Sign Here Please)!
Click here to get this book for FREE
° ° ° ° ° ° ° ° ° ° ° ° ° °
H.A.L.F.: The Deep Beneath
Natalie Wright


(56 Reviews)
Genre: Science Fiction | Children's eBooks
FREE for a limited time
Can a Human-Alien Hybrid, Created to be a Weapon, Save us from a Secret War we Don't Know is Coming? Library Journal eBook Selection H.A.L.F. (Human Alien Life Form) #9 is the product of genetic engineering, the union of human and alien DNA. Created to be a weapon in a secret war we don't know is coming, he proved too powerful to control. He has lived for seventeen years in an underground lab, sedated and trained to be a cold-blooded killing machine. But H.A.L.F. 9 has escaped the lab and the sedation has worn off. He has never been more alive. More powerful. Or more deadly.
Erika Holt is relaxing in the desert with her friends – a typical Saturday night. But a typical night in the desert with friends thrusts Erika into a situation more dangerous than she ever imagined. If she chooses to help H.A.L.F. 9 escape, her fate will become intertwined with his in what will become an intergalactic adventure.
Click here to get this book for FREE
° ° ° ° ° ° ° ° ° ° ° ° ° °
Candy Cats and Murder: Book 4 in The Chocolate Cafe Series
Valley Sams


(3 Reviews)
Genre: Mystery
FREE for a limited time
She's talented. She's unique. She's the wild-child chocolatier of Mackenzie Bay… but is she capable of murder? When a sudden death rocks the town's first Halloween chocolate competition, Sabrina finds herself in a ghoulish position, indeed. Join brilliant 'closet detective' Catherine Mackenzie as she races against the clock to expose the real murderer and save her best friend from life behind bars. It's going to take more than a few tricks and treats to get Sabrina out of this sticky mess!
Click here to get this book for FREE
° ° ° ° ° ° ° ° ° ° ° ° ° °
The Night Horseman
Max Brand


(129 Reviews)
Genre: Action & Adventure | Westerns
FREE for a limited time
At the age of six Randall Byrne could name and bound every state in the Union and give the date of its admission; at nine he was conversant with Homeric Greek and Caesar; at twelve he read Aristophanes with perfect understanding of the allusions of the day and divided his leisure between Ovid and Horace; at fifteen, wearied by the simplicity of Old English and Thirteenth Century Italian, he dipped into the history of Philosophy and passed from that, naturally, into calculus and the higher mathematics; at eighteen he took an A.B. from Harvard and while idling away a pleasant summer with Hebrew and Sanscrit he delved lightly into biology and its kindred sciences, having reached the conclusion that Truth is greater than Goodness or Beauty, because it comprises both, and the whole is greater than any of its parts; at twenty-one he pocketed his Ph.D. and was touched with the fever of his first practical enthusiasm — surgery. At twenty-four he was an M.D. and a distinguished diagnostician, though he preferred work in his laboratory in his endeavor to resolve the elements into simpler forms; also he published at this time a work on anthropology whose circulation was limited to two hundred copies, and he received in return two hundred letters of congratulation from great men who had tried to read his book; at twenty-seven he collapsed one fine spring day on the floor of his laboratory. That afternoon he was carried into the presence of a great physician who was also a very vulgar man. The great physician felt his pulse and looked into his dim eyes…
Click here to get this book for FREE
° ° ° ° ° ° ° ° ° ° ° ° ° °
The Templar's Quest (Templar Adventures Book 3)
C.M. Palov


(38 Reviews)
Genre: Action & Adventure | Thrillers
FREE for a limited time
Seventy years ago, the Nazi SS discovered a medieval pendant hidden beneath the ruins of the Knights Templar's Paris preceptory. Known as the Montségur Medallion, it contained encrypted clues to the whereabouts of the most coveted of all relics, the Holy Grail. Certain it would secure the Reich's victory, the Nazis embarked on a frantic search to find the relic… a search that continues to this very day. While on a black-ops mission in Syria, Finn McGuire uncovers the legendary Medallion in an ancient chapel. The discovery triggers a string of murders for which the Special Forces soldier is framed. The culprits are a group of Nazi SS descendants known as The Seven who will stop at nothing to possess the pendant. As with their predecessors, they seek the Holy Grail. Their plan? To use the relic to resurrect the Third Reich. Former MI5 operative Caedmon Aisquith is an expert in the Knights Templar and the Grail; he knows The Seven can only desire it for evil ends and when Finn approaches him, soldier and spy join forces in a quest to find the relic and halt the bloodshed. They are joined in their efforts to decode the trail of ancient symbols by Kate Bauer, a beautiful academic who is unwittingly drawn into the deadly intrigue. From the corridors of the Pentagon and embassies of Washington to the Louvre and a medieval citadel hidden in the Pyrenees, it's a race to stop The Seven. The stakes are high, for in the wrong hands, the Grail could destroy civilization. The Templar's Quest is an exhilarating adventure that perfectly blends thrilling action and ancient intrigue.
Click here to get this book for FREE
° ° ° ° ° ° ° ° ° ° ° ° ° °