I was out in the garden this morning checking on things when I noticed that my sweet chickie Jackie was not out in the run area of the coop with the others. I called her name several times, but she didn't poke her head out to answer. I instantly had a horrible feeling. Dreading what I might find I opened the coop and found her alive and happy, getting ready to lay an egg. The relief felt fantastic. It occurred to me though, that one day one of my ladies would not be okay, and that would break my heart. I also realized that you guys would want to know about it as well. Would I have the heart to tell you? Oh the sad thoughts. Well she is fine now, so to cheer up this post, here is a picture of the Wisteria right now. Beautiful!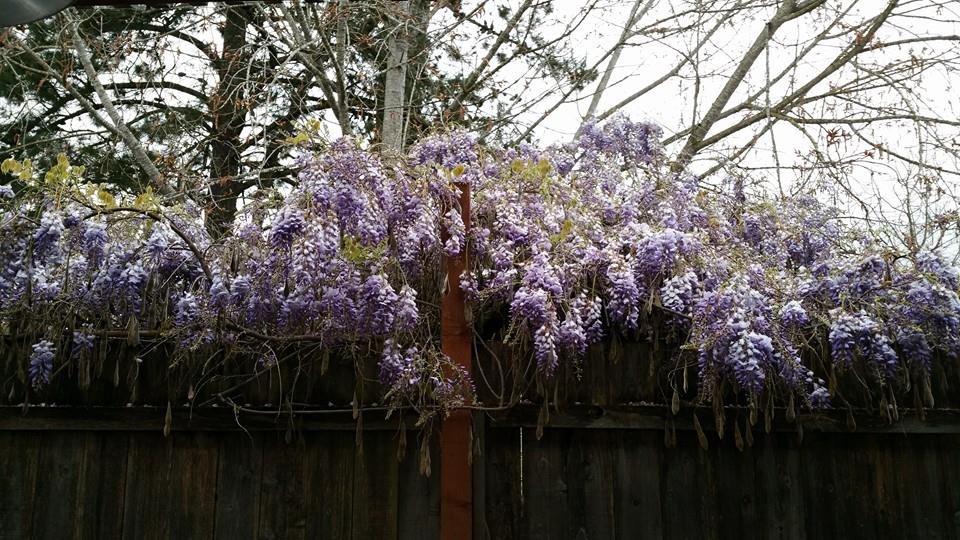 Laying Low in Paradise (The Casteloria Series Book 1)
Kristy K. James


(44 Reviews)
Genre: Romance | Health, Fitness & Dieting
FREE for a limited time
From the author of the popular Coach's Boys series, Kristy K. James, comes a romantic suspense story to keep you on the edge of your seat!
He's hiding out because someone wants him dead… Cameron Rafferty is keeping secrets. Dangerous secrets that could endanger the lives of everyone around him. His plan was simple… keep a low profile until the would-be-killer was found. And it was working – until an accident changed everything. Before he knows it, he finds himself becoming more involved with the family next door, and wishing for things he shouldn't. Things that will put their lives in jeopardy, too. Her summer plans didn't include secrets and danger… Spending summers on Bois Blanc Island was a tradition for author Laura Keane and her young son. Filled with special memories of the husband she'd lost to war, she looked forward to days of reminiscing, playing, and working on her newest novel. She didn't expect this year to be any different – but that was before their sexy neighbor came to her rescue like a knight in shining armor. Will that armor be tarnished when she finds out what he is and why he's living next door?
Click here to get this book for FREE
° ° ° ° ° ° ° ° ° ° ° ° ° °
The Bloodbath Ritual (The Alex Hollick FBI Series Book 1)
Andrew Downs


(277 Reviews)
Genre: Suspense | Sagas
FREE for a limited time
The Bloodbath Ritual begins a thriller series like nothing else in its genre! The Alex Hollick FBI Series takes readers into an underworld of secretive agendas and a troubled agent caught between love, morality and survival. This exciting, gripping and original thriller series combines murder mystery, saga, love story, and conspiracy thriller into one satisfyingly complex and entertainingly atmospheric story.
Alex Hollick is a clean-cut robbery division agent in Los Angeles, paying his dues, putting in his time, but his steady climb up the FBI ladder is about to take a major detour. Half of his team is killed in an unauthorized sting operation. The situation worsens when Hollick learns of the internal corruption that helped shape the deadly event. At the order of his trusted mentor, John Novak, Hollick travels to Virginia, unknowingly as a suspect. A CIA torture team lies in wait, planning to kidnap Hollick and squeeze the truth out of him. After a torturous, drug-induced series of mind games, Hollick is released to Jordan Clay; head of a clandestine group burrowed deep within the FBI. His orders are simple – Bury the truth about the SOCAL robberies… But things become more complicated from the moment the cover-up begins. Blood spills in all directions as Hollick and Novak attempt to hide the truth. Arson leads to a cop killing in the Mojave Desert. An ambitious Internal Affairs Agent is on to the corruption and two-million dollars in missing robbery money sits in the lap of a beautiful, but troubled young widow. As the danger escalates, Hollick concocts a seemingly perfect plan to protect the woman of his dreams, Agent Jennifer Fletcher. Back in Washington, Clay has big plans for Hollick. A career in homicide waits, investigating religious crime at the height of the Satanic Panic of the 1980's. Feeling confident that his plan has worked, Hollick begins his first case, The Halloween Murders – A double-homicide marked by a satanic signature. Hollick soon realizes that his prime suspect is a scared eyewitness and that the true killers are sabotaging his investigation. While Hollick struggles to close in on the killers, John Novak has made some plans of his own, to find and destroy the one piece of evidence keeping Jennifer Fletcher alive.
Click here to get this book for FREE
° ° ° ° ° ° ° ° ° ° ° ° ° °
Metro 2034: First English illustrated edition (METRO by Dmitry Glukhovsky)
Dmitry Glukhovsky


(53 Reviews)
Genre: Science Fiction
FREE for a limited time
Superb, long-awaited sequel to the cult bestseller METRO 2033, the second volume in the Metro trilogy, Metro 2034 continues the story of survival and struggle that unfolds in the mazes of the Moscow subway after the World War Three. As the entire civilization was wiped out by atomic bombs and the surface of the planet is polluted with nuclear fallout, the only place suitable for man to live are shelters and bunkers, of which the largest is the subway system of Moscow, aka the Metro. The year is 2034. There's no hope for humans to once return to the surface of Earth, to repopulate the forsaken cities, and to become once again the masters of the world they used to be. So they rebuild a strange and grotesque civilization in the tunnels and at the stations of the subway. Stations become city-states that wage trade and war on each other. A fragile equilibrium is established. And then all can be ruined in matter of days. A new horrible threat looms that can eradicate the remains of humanity and end our era. It would take three unlikely heroes to face this menace…
This is the first US edition of Metro 2034, containing black and white hip illustrations by Anton Grechko for each chapter. Translated from Russian by Andrew J. Bromfield, one of the top 5 world specialists.
Click here to get this book for FREE
° ° ° ° ° ° ° ° ° ° ° ° ° °
Next Stop, Chancey (Chancey Book Book 1)
Kay Dew Shostak


(22 Reviews)
Genre: Women's Fiction | Contemporary Fiction | Family Life
FREE for a limited time
Looking in your teenage daughters' purse is never a good idea. After all, it ended up with Carolina Jessup opening a Bed & Breakfast for railroad fanatics in a tiny Georgia Mountain town. Carolina knows all about, and hates, small towns. How did she end up leaving her wonderful Atlanta suburbs behind while making her husband's dreams come true? The town bully (who wears a lavender skirt and white gloves), an endless parade of teenagers through her house, and everybody's talk about a ghost have Carolina looking for an escape, or at least a way to move back home. Instead, she"s front and center for all of Chancey's small town gossip. Unlike back home in the suburbs with privacy fences and automatic garage doors, everybody in Chancey thinks your business is their business and they all love the newest Chancey business. The B&B hosts a Senate candidate, a tea for the County Fair Beauty contestants, and railroad nuts who sit out by the tracks and record the sound of a train going by. Yet, nobody believes Carolina prefers the 'burbs. Oh, yeah, and if you just ignore a ghost, will it go away?
Click here to get this book for FREE
° ° ° ° ° ° ° ° ° ° ° ° ° °
The Warrior's Way (Warrior Series Book 1)
Karah Quinney


(40 Reviews)
Genre: Romance | Historical Fiction
FREE for a limited time
From Karah Quinney comes a thrilling new prehistoric novel of suspense, action and romance… amidst ancient mysteries.
Deep in the Amazon Rainforest… Falcon, a rash and daring young warrior, defies his father by rejecting a marriage that would ensure a much needed alliance for his people. His village struggles to protect itself against bitter enemies that would pillage, plunder and destroy. On the verge of becoming an outcast, he discovers a frightening truth hidden deep in the lush jungle known as the Great Forest. Falcon must claim a fragile link to the past – the warrior's way – or risk losing his soul forever. Little Sparrow, orphaned as a child and taken in by a distant village, is cast into despair when Falcon refuses to take her as his mate. Somehow, she must find the strength to keep a promise made long ago, despite the difficulties that arise when the mysteries of the past reemerge. She is the caretaker of an ancient stone, a stunning emerald of exquisite beauty that others covet and seek to possess. She struggles against the secrets of the past as she strives to keep her promise and above all else, survive. Lives will be lost and destinies unraveled amidst the dark heart of the jungle.
Click here to get this book for FREE
° ° ° ° ° ° ° ° ° ° ° ° ° °
A Stallion Free and Wild
John Anderson


(31 Reviews)
Genre: Action & Adventure
FREE for a limited time
In the 1800's, Indian tribes were forced off the plains and onto reservations. Their horses killed or left to run wild, growing into great herds. A new breed of cowboy, the Mustang Hunter was born. It was at this time that Leif Nelson, an immigrant from Norway, arrived to live with his Uncle Martin in Montana. Leif first set eyes on the beautiful stallion while riding the lonely prairie. He witnesses him fight a grey stallion to the death for his mustang mares. He names the stallion Thor. The tale of this stallion in Montana spreads as riders from all corners of the land come with their best horses. They return defeated, covered with Musselshell dust, swearing that the white stallion cannot be caught. A Blackfoot hunting party captures Leif while he is hunting Thor. Rescued by a rancher, he falls in love with his daughter, Sarna. Later he befriends a loner, Antone Baine, who introduces Leif to his horse, Big Red. This is a story of mustangs, love and death. You must read this tale for the exciting finish. Even the Blackfoot braves shake their heads for what they witness and raise their lances to the sky, chanting to the Great Spirit.
Click here to get this book for FREE
° ° ° ° ° ° ° ° ° ° ° ° ° °