After all the fuss and work I put into growing pumpkins, this is what the final result is. I don't think it's even enough to decorate a Barbie Dream House. I even had to keep some of the vines on them to fluff them up a bit.  My hubby asked me where the rest of the pumpkins are. I told him to leave me alone and left the room to eat a few Junior Mints. Which I found a bit sad, since my pumpkins were junior as well.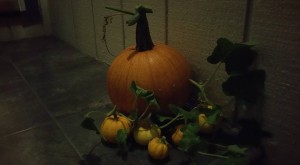 Mr Swirlee (Dev Haskell – Private Investigator, Book 2)
Mike Faricy

(247 Reviews)
Genre: Mystery, Thriller & Suspense
FREE for a limited time
Mr Swirlee is the SECOND off-beat mystery in the Dev Haskell mystery series. MURDER & MAYHEM IN THE ICE CREAM TRUCK BIZ. "Laugh a minute story line in another of Faricy's deliciously engaging worlds… " -The Irish Gazette Skirt-chasing, wise-cracking, dysfunctional Private Investigator Dev Haskell leaves his usual stool at the Spot Bar to take on what looks like a cakewalk job: keep ice cream mogul Mr. Swirlee alive. Turns out Mr. Swirlee is anything but a cakewalk… He's a ruthless "entrepreneur" with a flash temper, a mean streak a mile wide, and a laundry list of people who want to do him in—including his sex-crazed girlfriend Lola. Things go from bad to worse when Dev discovers his client is running a gambling ring in his ice cream trucks. When Dev's revelation is detected, a dead body ends up in the trunk of his car. Once again, our hero is in over his head. Thank God for Dev's sometime friend, felon Tony "Dog" Colli, who agrees to help out. Murder, mayhem, romance, double cross, and bodies pile up as Dog and Dev follow their difficult client through the streets of St. Paul in the steamy summertime, spinning a colorful yard with a healthy serving of the bizarre. A fast paced tale of bottom feeders and the criminal class, Mr. Swirlee will leave you at turns gasping and laughing your way through Dev Haskell's screwy world. "You'll be chuckling at midnight and trying to remember when the dives close in your neighborhood… " -Crimeways Magazine
Click here to get this book for FREE
° ° ° ° ° ° ° ° ° ° ° ° ° °
Wilderness Trail of Love (American Wilderness Series Romance Book 1)
Dorothy Wiley


(132 Reviews)
Genre: Romance
FREE for a limited time
Dreaming of building a better life, Stephen and Jane set out across the American frontier in search of a place to call home. But as they bravely plunge through the unexplored formidable wilderness, will this strange land tear the family apart? A robust blend of adventure and action, heartache and humor, with romance and passion, this riveting tale by award-winning historical romance author Dorothy Wiley breaches the walls of time, bringing readers to a young America, where romance and danger are as powerful as the wilderness. Set in 1797, on America's romantic frontier, this gripping journey is the story of Stephen Wyllie, and his heroic and breathtaking quest for land–across a thousand perilous miles to the Kentucky wilderness–a new world for the brave. Stephen wants only one thing more than land–to keep his wife Jane and their young daughters safe. But he needs land to make a better future for his family, and the frontier lies open to settlement in the new state of Kentucky. The decision to go is not an easy one, and Stephen carefully weighs the risks before undertaking what he knows will be a dangerous journey. His courage is undaunted, her passion is deep, but the wilderness is full of terror. Two lives, one great love, torn apart by a frightening wilderness that challenges everything Stephen and Jane Wyllie care about. When the harsh demands of the frontier nearly tear apart their great love, Stephen and Jane must find a path through more than the wilderness. Will Stephen's dream cost him what he values most–Jane's love? WILDERNESS TRAIL OF LOVE is the first book in author Dorothy Wiley's award-winning American Wilderness Series, however each book may be read independently. Like her other three novels in the series, set in what was then America's West, this inspiring tale captivates readers by balancing the hardships of the frontier with amusing, romantic, and vivid characters that come to life on every page. Wiley's American Wilderness Series–epic love stories of the frontier–captivate readers of westerns, historicals, and romance. Spell-bound by horrific events and heinous villains, readers of westerns fear for her valiant characters–the brave first-wave settlers of the untamed West. And charmed by the beauty of Wiley's love stories, romance lovers cheer for her endearing heroes and heroines. But all readers appreciate Wiley's ability to take them on a thrilling journey to a new world for the brave–the American frontier. With her singular voice, passionate narrative, and thrilling plots, Wiley has written an enthralling, romantic, and timeless western series.
Click here to get this book for FREE
° ° ° ° ° ° ° ° ° ° ° ° ° °
A Noble Paradise
James Crawford


(35 Reviews)
Genre: Contemporary Fiction | Family Life | Women's Fiction
FREE for a limited time
"Would you be willing to destroy David to get the children back? An accusation can work wonders." "At this point I'd be willing to do or say anything. But what if he fights it and they realize the accusations aren't true? Couldn't I get into trouble?" "That's the beauty of it. No one's going to come back and investigate whether you lied. The court dockets are too full for that. What've you got to lose?" So begins the chain of events that turns a single dad's idyllic home into an agony of solitude. Shattered by the accusation, David must fight shame and dejection to win his children back as his life crumbles around him. Based in part on the author's personal experiences, the novel reminds us that unselfish love between parent and child is a treasure worth fighting for. James Crawford is also the author of Mariner Valley, Seed of Aldebaran, and books in other genres. He lives in Charleston, SC and can be reached at AuthorJamesCrawford@gmail.com. "… never tedious or self-indulgent… may ring true for many readers." – Kirkus Reviews "… a timeless story made fresh and new… " – D. Donovan, eBook Reviewer, Midwest Book Review "… a very fine novel! Highly recommended." – Grady Harp, Author WAR SONGS, Art Historian for PoetsArtists, Art of Man, Vitruvian Lens
Click here to get this book for FREE
° ° ° ° ° ° ° ° ° ° ° ° ° °
The Price of Retribution
Christopher Cartwright


(25 Reviews)
Genre: Action & Adventure | Historical Fiction
FREE for a limited time
After the world's most expensive diamond heist goes wrong, Jack Overton finds himself running from the man who had once been his master – England's most powerful magistrate of the eighteenth century, Sir Robert Williams. With deep ties to one of the most violent Secret Societies in Europe, the honorable Sir Robert Williams will stop at nothing to catch him. There are few places in the western world that would harbor such a fugitive, and he finds himself headed for the one place that no one would bother to look: Great Britain's newest penal colony – New South Wales. But surviving in the new harsh land is going to be hard for a thief whose only real skill is looking out for his own greedy desires. Particularly when he meets recently widowed convict Anna Harper, and finds that their lives and destinies are unwittingly entwined.
Click here to get this book for FREE
° ° ° ° ° ° ° ° ° ° ° ° ° °
Mouse Goes To The Doctor: Rhyming Bedtime Stories – Rhyming Picture Book (Mouse Tales)
Mary Ann Vitale


(33 Reviews)
Genre: Children's eBooks
FREE for a limited time
Mouse Goes to the Doctor is a rhyming story of a little boy and his toy Mouse who breaks his leg. He begs his mom to take Mouse to the doctor and fix his leg. Mom leaves her little boy very happy.
Click here to get this book for FREE
° ° ° ° ° ° ° ° ° ° ° ° ° °