Do you know why I feel so special today? I had not one, but TWO visitors to my pumpkin plants today. They must have read what I had said earlier about wanting to yank the pumpkins out, so they came to the rescue. When the sun comes out I will take a few pictures of the garden and post them on my Pinterest Board titled "In The Garden". You can click here to view it. I am really excited about the progress of my grapes. I might even be able to eat one soon!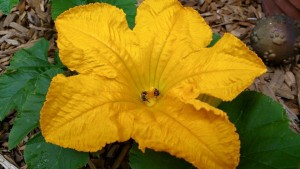 The Orphan Factory (The Orphan Trilogy Book 2)
James Morcan


(59 Reviews)
Genre: Mystery, Thriller & Suspense | Science Fiction | Teen & Young Adult
FREE for a limited time
An epic, atmospheric story that begins with twenty three genetically superior orphans being groomed to become elite spies in Chicago's Pedemont Orphanage and concludes with a political assassination deep in the Amazon jungle. The Orphan Factory, a coming-of-age spy thriller novel, is book two in The Orphan Trilogy and a prequel to The Ninth Orphan. Go on another frenetic journey with the ninth-born orphan as he busts out of the clandestine orphanage he knew as home and goes on the run across America. In the late 1970's, in Chicago, Illinois, the secretive Omega Agency initiates the Pedemont Project – a radical experiment utilizing genetic engineering technologies – to create twenty three orphan babies with the plan to turn them into the world's most effective assassins. One of the prodigies will rebel: meet Number Nine, an orphan with a mind of his own. In 1998, when Nine reaches adulthood and graduates with honors from the Pedemont Orphanage, he is already an adept of the deadly espionage arts. Ordered by his Omega masters to assassinate a survivor of the Jonestown tragedy in Guyana's Amazon rainforest, Nine is forced to draw upon all of his advanced training just to stay alive.
Click here to get this book for FREE
° ° ° ° ° ° ° ° ° ° ° ° ° °
The Reluctant Human
Douglas Robbins

(35 Reviews)
Genre: Humor & Satire | Literary Fiction | Science Fiction
FREE for a limited time
Have you ever walked down the wrong road hoping to get to the right place? Scott Bauman is mere days away from either finding relief – or ending it all. In a dead-end job the odds are stacked against him. But Bauman isn't your average, every-day ordinary dude. He's "special". Author of the bestselling Leaves Piled High, Douglas Robbins breathes life into the world of Scott Bauman. With fascinating characters and humorous depictions, Robbins weaves an engaging story that absorbs the reader with his sharp wit and insight. The Reluctant Human dives into what it means to truly live a meaningful existence.
Click here to get this book for FREE
° ° ° ° ° ° ° ° ° ° ° ° ° °
Neighbors (A Short Story)
Marina Scott


(13 Reviews)
Genre: Historical Fiction | Mystery, Thriller & Suspense
FREE for a limited time
Neighbors is the short story set in the post-war Stalinist Moscow where fear and paranoia reign. Complete strangers are cramped into a small communal apartment and forced to share a small kitchen, a cold bathroom and a scarce supply of food. They also share their dreams, hopes and their secrets. Some harbor heartbreaking efforts to survive. Some hide an unrequited love. But there are also those who invite darkness and set a nightmare into motion. Please be advised that this is a 5,000 word short story.
Click here to get this book for FREE
° ° ° ° ° ° ° ° ° ° ° ° ° °
Mortal Sentry (Raina Kirkland Book 2)
Diana Graves


(11 Reviews)
Genre: Fantasy
FREE for a limited time
Parallel to our own, this world is one of magic and religion, of horrors and fantastic deeds.Enter Raina Kirkland, living vampire and all around supernatural mutt, she hides in her aunt's enchanted house from a demon that wants her dead. That is until she makes a deal with him. She has seven days to comply with his demands… but a lot can happen in a week. Saturday: two master vampires ask for her undead loyalty, and two family crises' fall on her door step. Sunday: she dodges shady characters, discovers secrets from her past and rescues her brother from the torturous clutches of a demented man with connections to the monster mafia. Monday: makes the previous two days look like walks on the beach in comparison. "Your worst enemy could be your best friend and your best friend your worst enemy" ~Bob Marley Warning: This book contains sex and violence. Suitable for mature readers only.
Click here to get this book for FREE
° ° ° ° ° ° ° ° ° ° ° ° ° °
Castles in England. A Travellers' Guide
Gary McKraken


(7 Reviews)
Genre: History | Travel
FREE for a limited time
Ever since I was a child growing up in England I have been fascinated by castles. Their history, the part they have played in the development of England through the centuries, the magnificent architecture and feats of ancient engineering and construction. Not only that, castles are great places to visit for a day trip to learn more about them and see the spectacle. So I have written this book – Castles in England, A Travellers' Guide to give you a look at twenty of my personal favourite castles so you can learn about them and perhaps take a few in whether you live in England and looking for interesting places to visit or perhaps on holiday in England from abroad and would like to see some proper British history.
Click here to get this book for FREE
° ° ° ° ° ° ° ° ° ° ° ° ° °
DIY Survival Hacks! Survival Guide for Beginners
Mark O'Connell


(18 Reviews)
Genre: Cookbooks, Food & Wine | Politics & Social Sciences
FREE for a limited time
When a disaster strikes, knowing what to do is critical for survival, and half the battle. With this guide, you can learn to utilize simple items around the house for the survival of both you and your loved ones, no matter your experience level. While disasters may vary in nature, the basic elements of survival always remain the same. Having the proper knowledge in these basic elements will give you the knowledge you need to emerge from any type of disaster unscathed. From how to find water in unexpected places around your home to starting a fire using household items, this guide has it all. Never be caught unprepared again! This book contains all the basic information you need to survive a disaster. And after reading this short ebook, you would start thinking like a survivor. A survivor mindset is really important to survive any kind of disaster. It all comes down to having the right information and the right mindset. If you have those two assets, you can pretty much survive any disaster.
Click here to get this book for FREE
° ° ° ° ° ° ° ° ° ° ° ° ° °