Well… my partner in crime sent me this last night. She knows how much I love unicorns.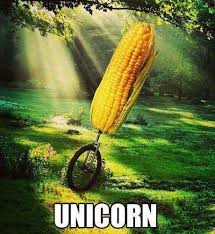 The Royal Dragoneers (Book One of the Dragoneers Saga)
M. R. Mathias


(326 Reviews)
Genre: Contemporary Fiction | Children's eBooks | Mythology & Folk Tales | Fantasy
FREE for a limited time
After struggling for more than two centuries to tame the inhospitable islands where they washed up, the descendants of the survivors of a lost passenger ship are now striving to tame a more substantial "Mainland" they have found.For as long as mankind has been stranded, dragons have been their sworn enemies.But no longer…
Sixteen year-old Jenka De Swasso wants nothing more than to follow in his father's footsteps and become a King's Ranger. But when he one day finds himself surrounded by vicious trolls, a young pure-blood dragon comes to his rescue and they become bond-mates.Meanwhile, the goblins have a new king, Gravelbone, and have allied themselves with the tainted "mudged" dragons to drive mankind out of its lands. Setting his sights on a vast manmade wall, Gravelbone and his wicked hell-born Nightshade, seek to poison the entire human kingdom and enslave any survivors. Jenka and his companion, a druida warrior named Zah, soon realize that they and their bonded dragons are mankind's only hope for survival. Forced to defy their arrogant king's wishes, the pair set out on a desperate quest to stop Gravelbone's forces and save mankind from its terrifying fate.With action so intense you'll forget to breathe and intrigue around every corner, The Royal Dragoneers is one adventure you cannot miss. Hold on to your dragon… your journey is about to begin!
Click here to get this book for FREE
° ° ° ° ° ° ° ° ° ° ° ° ° °
Goodwill Peak
Mark A. Turner

(5 Reviews)
Genre: Westerns | Action & Adventure
FREE for a limited time
Set in the fictional town of Goodwill Peak, this Wild West adventure delivers the harsh realism of the time. This action packed, fast paced romp follows the story of two outsiders who impact the town of Goodwill Peak and its inhabitants, changing the towns fortunes. But the town changes them too. Riding into Goodwill Peak has never been a problem, the same can't be said for getting out alive.
Click here to get this book for FREE
° ° ° ° ° ° ° ° ° ° ° ° ° °
A Drop of April Snow
Christopher Sword


(35 Reviews)
Genre: Mystery, Thriller & Suspense | Contemporary Fiction
FREE for a limited time
"A tapestry of lives, trauma and subsequent vulnerability of three different persons." The last snow storm of the year was to be the biggest. Police warned drivers to stay off the roads. Families huddled inside their homes, wondering if they would lose power, heat and the ability to get out. In the morning a glittering layer of frosting covers everything. A couple snowshoes into town and discovers the body of a young man found off to the side of the rural highway without a jacket, shoes or socks. A Drop of April Snow follows three characters whose lives intersect in ways unknown to them. The characters all struggle to deal with their past, each making efforts to block out the details of memories that are either too painful or debilitating in some way. When their worlds collide it becomes increasingly impossible to ignore that they are forever linked in tragedy.
Click here to get this book for FREE
° ° ° ° ° ° ° ° ° ° ° ° ° °
Candles on the Sand
Katie Stephens


(18 Reviews)
Genre: Women's Fiction | Contemporary Fiction | Romance | Teen & Young Adult
FREE for a limited time
Walking out on her cheating fiance and domineering mother eight weeks before her wedding, Anna finds herself heading to Gatwick Airport and the Amalfi Coast. When she realizes the relationship with her mother is beyond repair she decides to try a new life in Italy. On the first day of her journey she takes a wrong turn off the main road and finds a picturesque town down a winding country road. A dramatic rescue finds Anna embraced by the community of the small fishing town of San Lavello. In San Lavello she finds a place to live, a job and some very special friends. What's more, she starts to find her real self. Through Leonora, a former actress who is in hiding and Elisa, the daughter of the local widowed restaurateur Salvatore, Anna begins to live her life the way she wants to live it. The friendship she develops with her wine dealer boss, Dante, becomes stronger and apprehensively she finds herself falling in love with him. With the town of San Lavello under threat of development Anna finds herself helping to save the town she has come to love but can she start afresh while there are still unresolved issues at home.
Click here to get this book for FREE
° ° ° ° ° ° ° ° ° ° ° ° ° °
DIY Lemon: How to Clean,Improve Your Health, Rejuvenate your Skin, and Lose Weight
BJ Knights


(40 Reviews)
Genre: Health, Fitness & Dieting
FREE for a limited time
There are many surprising uses for lemons. In fact, they are, perhaps, the most versatile fruits out there. Most people are familiar with the traditional uses of this citrus fruit to enhance their food and water, and to soothe sore throats. However, the diversity of application far exceeds general knowledge, and once people go through the following list, they will likely want to load up on lemons in their kitchens. This book will cover: Surprising Uses For Lemons Natural Green Cleaning With Lemons The Top Benefits Of Lemons For Your Health Some Household Uses For Lemon Essential Oils Achieve Glowing Skin With Lemon Face Mask Recipes Lemon For Shiny Hair And A Healthy Scalp Clever Ways To Clean With Lemon 5 Ways To Clean Your Bathroom Using Lemon The Many Items You Can Clean With Lemon
Click here to get this book for FREE
° ° ° ° ° ° ° ° ° ° ° ° ° °