You know it's going to be a great day when your bowl of Lucky Charms looks like this!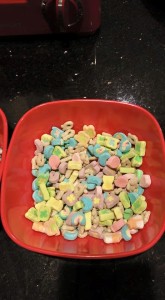 Broken Lines Omnibus: A Tale of Survival in a Powerless World
James Hunt
Genre: Science Fiction
FREE for a limited time
The advancement of technology has allowed our society to grow in leaps and bounds. The fields of medicine, engineering, agriculture and countless others have benefited from the applied science of high tech microprocessors and their data processing capabilities.
This technology helps power our homes, cars, laptops, and phones. It is involved in every aspect of our lives, but as powerful and complex as these systems are there is one device that can cripple everything and bring the world as we know it to a standstill: EMP blast.
After a week with no power whatever shred of humanity is left in people is slowly dwindling away. Gangs are forming, people are starving, and the whole country is in a free-for-all.
Mike Grant, a veteran welder for a Pittsburgh steel company, finds himself on the road, fighting to stay alive. A single thought propelling him forward: get to his family.
Accompanied by his neighbor, Nelson, Mike leaves Pittsburgh and heads to his family's cabin in Ohio. For Mike the only thing worse than not making it to the cabin is the fear of his family not being there when he does.
Click here to get this book for FREE
° ° ° ° ° ° ° ° ° ° ° ° ° °
Windwood Farm (Taryn's Camera Book 1)
Rebecca Patrick-Howard


(85 Reviews)
Genre: Mystery, Thriller & Suspense | Religion & Spirituality
FREE for a limited time
Windwood Farm has a terrible secret-one that's been buried for nearly 100 years. Taryn Magill aims to uncover it…or die trying.
As a mixed media artist and urban explorer with a love for abandoned houses and a big imagination when it comes to the past, 30 year old Taryn has never really met an old house she didn't like. In fact, she's made a career out of painting these sad, often derelict structures, to show them in their former glory for her clients.
With Windwood Farm, though, she might have bitten off more than she can chew!
The locals refer to it as "the devil's house" and even vandals have stayed away from this once grand stone farmhouse in Vidalia, Kentucky. Hired by the Stokes County Historical Society to paint it before it's demolished by a land development company, Taryn's determined to make friends with the house and farm everyone around her seems to be terrified of.
As it turns out, though, their fears may just not be unfounded.
Click here to get this book for FREE
° ° ° ° ° ° ° ° ° ° ° ° ° °
The Cuckoo's Gift
Anne J. Steinberg

(75 Reviews)
Genre: Contemporary Fiction | United States | Teen & Young Adult
FREE for a limited time
When Caroline Spencer returns to the Florida island of Sanibel, she comes face to face with her past. Her last visit here was twelve years ago when, through whispering mangroves, past flocks of exotic birds, skirting bobcat trails and precious mounds of turtle eggs, four children played in this earthly paradise – as explorers, naturalists, boat-builders… and eventually, as lovers.
Over the intervening years, Carrie has tried to forget those summer idylls and the children who were her friends – Phoebe, who believed herself to be a mermaid, her aloof older brother Bradley, and Tristan, son of the Native American wisewoman, Tanta. Now two of them are dead and gone. In the cemetery, however, there is only one grave; in Tanta's backyard, a mourning cradle hangs, stuffed with black raven feathers; and over at Bud's Landing lives a small boy who has mysteriously been struck dumb. Legend says that pirates buried treasure on a sister island, but here on Sanibel, where a great storm is gathering, Carries is about to unearth some treasure of her own.
Click here to get this book for FREE
° ° ° ° ° ° ° ° ° ° ° ° ° °
Secret Seekers Society and the Beast of Bladenboro
J.L. Hickey


(104 Reviews)
Genre: Children's eBooks | Mythology & Folk Tales | Fantasy
FREE for a limited time
Love stories about magic? What about blood thirsty monsters and secret society's that hunt them? Secret Seekers Society is jam packed with all that and more.
Secret Seekers Society and the Beast of Bladenboro centers around the lives of two young protagonists Hunter Glenn, and Elly Ann through an adventure ripe with adversity, paranormal monsters, secret societies, and most haunting of all, a life without their parents.
The book follows both, the sibling's emotional struggle from their parent's sudden loss, as well as their physical journey into a new and strange "home", an ancient and creepy mansion known only as the Belmonte Estate.
It is here where they first learn of their new guardian, an eccentric old man named Professor Clandestine and the rest of the mansion's caretakers. Tossed into their bedroom, and locked away under the pretense of "safety concerns" it does not take long for the children to hatch an escape plan.
Follow the children as they slowly unravel the secrets of their parent's true identities, the origin of the strange Mansion, and their inheritance into an ancient secret society of monster hunters known as Seekers.
Click here to get this book for FREE
° ° ° ° ° ° ° ° ° ° ° ° ° °
Everyone Said I Should Write A Book: The Travels and Adventures of a Sailor and Explorer (Everyone Said… Book 1)
Jonathan White


(60 Reviews)
Genre: Travel | Biographies & Memoirs | Sports & Outdoors
FREE for a limited time
Pirates, parrots, hurricanes and Himalayas. True tales of a modern adventurer.Stalked by jaguars in the jungle of Guatemala! Will they survive pirates off Costa Rica? How does he escape war in Kashmir?
Hanging out with Jim Morrison, surviving a huge tornado at sea, saving the life of a lone fisherman helpless in a storm…Whether you are a landlubber or sailor, an armchair adventurer or world traveler, you'll understand why everyone said he should write a book…
Click here to get this book for FREE
° ° ° ° ° ° ° ° ° ° ° ° ° °